Find Carpet Cleaning Services in Minneapolis
Chem-Dry Carpet Cleaning Services in Minneapolis
Look to Chem-Dry for carpet cleaning in Minneapolis. Minneapolis is one half of the famous "Twin Cities" with neighboring St. Paul. The area is known for its many lakes and for having one of the most extensive park systems in the United States.  It is truly a beautiful place to live! 
Here at Chem-Dry we pride ourselves in making it easier for you to maintain a cleaner, healthier home. Our unique carpet cleaning process doesn't rely on harsh chemicals or soapy detergents. Instead we use a Chem-Dry Green Certified cleaning solution call The Natural to clean carpets. This product uses the natural power of carbonation to achieve a deep clean.
Chem-Dry is the perfect choice for homeowners in Minneapolis who are looking for a gentle approach to carpet cleaning. We can remove dirt, grit, and deep-seated stains from your carpets, rugs, and upholstery, while using products that you can trust. Regular Chem-Dry carpet cleanings will keep your home looking great!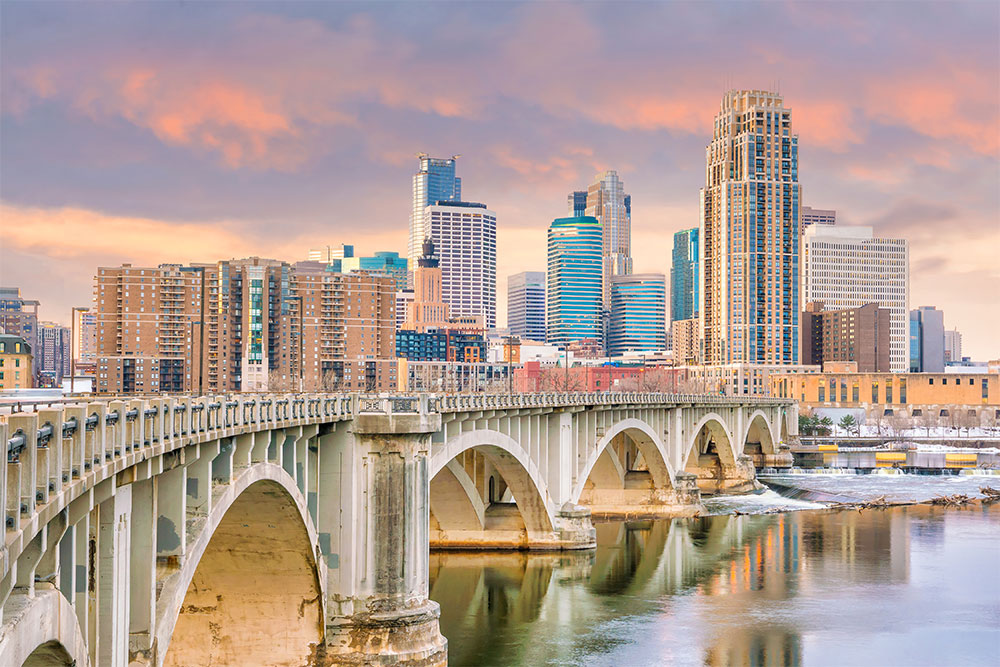 Minneapolis' Carpet Cleaning Experts
For over 45 years Chem-Dry has been a trusted carpeting cleaning company that thousands of homeowners rely on daily. Our expert technicians in Minneapolis make hiring a professional carpet cleaning company simple for local customer.
How Chem-Dry Cleaning Works
Chem-Dry has a unique cleaning process that is unparalleled by any other carpet cleaning service in Minneapolis. 
We avoid the use of harsh chemicals or soapy detergents. In fact, our cleaning solution, the Natural®,is Chem- Dry Green Certified! It doesn't leave behind any sticky, soapy residues, which lowers the risk of your carpets resoiling! 
This is how our cleaning process works: 
Our carpet cleaners will begin by vacuuming your carpet to remove dirt, grit, and allergens that are loose in the carpet fibers. 

Next, we deep clean with The Natural

®

, which releases millions of tiny carbonated bubbles deep into the carpet.

These bubbles attach to deep-seated soil and grime and lift them to the surface. 

Finally, this dirt and grime will be whisked away with our Powerhead

®

extractor. 
Due to this innovative process, Chem-Dry uses about 80% less water than traditional steam cleaners. This results in a much faster dry time, often just 1 to 2 hours! This also lowers the risk of mold or mildew growth after cleaning due to prolonged wet carpets.
Best of all, the Chem-Dry process delivers a deep, long-lasting clean to carpets. This makes Chem-Dry a great choice for homeowners in the Minneapolis area.
Additional Services We Offer
Not only does Chem-Dry do a fantastic job deep cleaning your carpets, but we also have services to clean other areas in your home! Reach out to your local franchise for specific service details. 
Pet Urine Cleaning Services
Pet owners are very familiar with the stain and odors urine can cause. Chem-Dry offers an exclusive

Pet Urine Removal Treatment

that is proven to remove 99.9% of pet urine odors!
Stain Removal Services
Do you have a stubborn stain that won't come out? Chem-Dry technicians are trained to be experts at stain removal.  Our Specialty Stain Removal Service can get the toughest stains out! 
Upholstery Cleaning Services
Our Hot Carbonating Extraction cleaning process works as well on upholstered furniture as it does on  carpet! We provide upholstery cleaning services that are great for sofas, recliners, ottomans, and more. We also offer a specialty leather cleaning service for leather upholstery.
Rug Cleaning Services
Chem-Dry offers professional cleaning for a wide variety of oriental rugs and area rugs. We have specialized tools and equipment specifically designed to provide the best clean for your unique rugs. 
Proudly Serving Minneapolis & Surrounding Areas
Chem-Dry aims to provide the best carpeting cleaning service possible in Minneapolis. Our franchises in Minnesota are all locally owned and operated with a commitment to amazing customer service. 
Chem-Dry franchises have received excellent carpet care reviews from homeowners in Anoka County, Carver County, Chisago County, Dakota County, Hennepin County, Isanti County, Ramsey County, Scott County, Sherburne County, Washington County, and Wright County. 
Chem-Dry provides carpet cleaning in:
Camden 

Hawthorne 

 

St. Anthony 

Lauderdale 

Bryn Mawr 

Uptown 

Longfellow 

 

Powerderhorn 

Hiawatha 

Tangletown 

Windom 

Nokomis 
Ready to get your carpets cleaned? Contact your local Chem-Dry by phone or online to schedule your next floor cleaning! 
Reach out to your local Chem-Dry today to book a carpet cleaning in Minneapolis, MN!