Find Carpet Cleaning Services in Fort Myers
Chem-Dry Carpet Cleaning Services in Fort Myers 
Chem-Dry is your source for carpet cleaning services in Fort Myers! Fort Myers was built during the mid-1800s and takes its name from a fort that was built during the Seminole Wars. Fort Myers is also a major tourist destination. Some places people like to visit include the winter estates of Thomas Edison ("Seminole Lodge") and Henry Ford ("The Mangoes").   
Chem-Dry is the perfect carpet cleaning company to keep the outside grime out and help you maintain a cleaner, healthier home. Our carpet cleaning process delivers a deep clean without using any harsh chemicals or soapy detergent. Our innovative Hot Carbonating Extraction process uses millions of tiny bubbles that reach deep into your carpet fibers to bring grime and dirt to the surface. All of that dirt and grime is then whisked away by our powerful extraction equipment. 
Our fast and effective process is a great choice for homeowners in the Fort Myers area, especially if you're fighting spots on your carpets from all of the outdoor exploring your family and pets are doing. The dust, dirt, and sand that are so common in the homes around the area are very abrasive and can actually damage your carpets over time. You can count on Chem-Dry to help! Routine professional carpet cleaning will not only remove dirt, grit, and sand, but will also extend the lifespan of your carpets.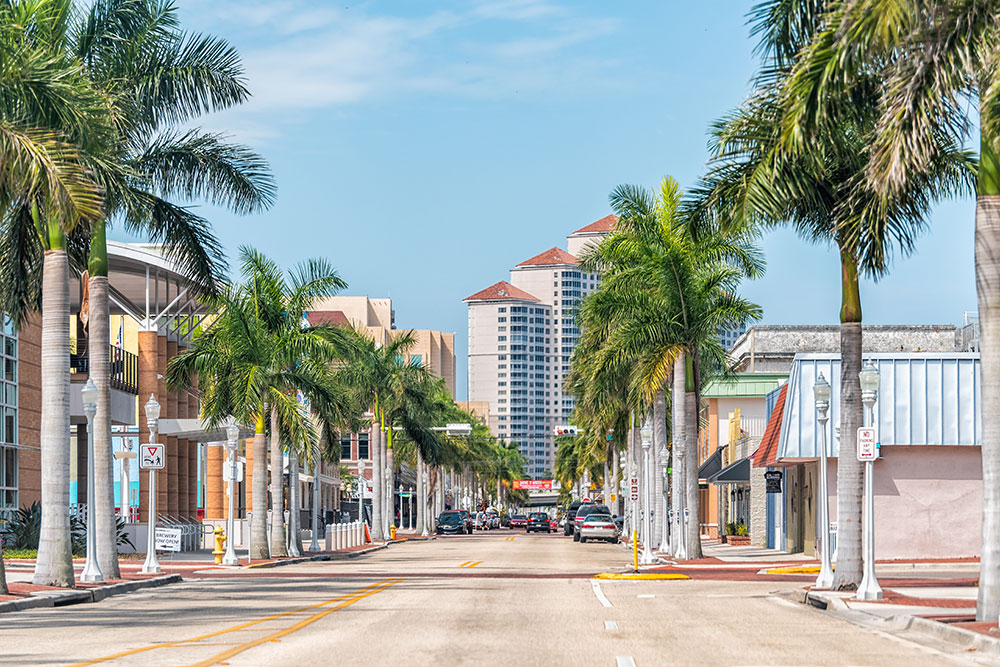 Fort Myers's Carpet Cleaning Experts 
Chem-Dry has been an expert in carpet cleaning for more than four decades. Our carpet cleaning technicians in Fort Myers deliver expert care to your carpets and make having cleaner carpets easy for local families. 
Our Carpet Cleaning Process  
Chem-Dry has a different cleaning process which sets us apart from other carpet cleaning companies in Fort Myers. 
Here at Chem-Dry, we don't use excess volumes of water or soapy detergents, rather we tackle dirty carpets with the natural power of carbonation. 
Here's how our unique cleaning process works: 
Technicians will start with vacuuming the carpeted areas with a HEPA filter vacuum to clear away any loose dirt, grit, and allergens from the carpet fibers. 

Next, we will apply our carbonating solution, The Natural®, one of our Chem-Dry Green-Certified products that works to dislodge dirt and grime from deep in the carpet's fibers.  

Finally, we draw out the dirt with our PowerHead® extractor. After we're finished, you can expect your carpet to dry in 1 to 2 hours. 
Thanks to our innovative extraction process, Chem-Dry leaves no soapy residues behind after cleaning, lowering the risk of resoiling. Your carpets will also dry much faster compared to traditional steam cleaning, which reduces the risk of mold or mildew growth. 
The best part of this whole process is you are left with a deep, long-lasting clean, and a healthier home for you and your family! 
Additional Chem-Dry Services We Offer 
Chem-Dry is more than a carpet cleaning company; we can deliver a deep cleaning to your whole home! Chem-Dry in Fort Myers offers a range of other cleaning services. For specific service offerings in your area, contact your local franchise. 
Upholstery Cleaning Services 
Chem-Dry uses the same unique Hot Carbonating Extraction cleaning process on your upholstered furniture! Our upholstery cleaning service is perfect for all sofas, recliners, and more. We also offer a specialty leather cleaning service. 
Pet Urine Cleaning Services 
Pet owners know all about the stains and odors that pet urine causes. Chem-Dry offers an exclusive Pet Urine Removal Treatment that is proven to remove 99.9% of pet urine odors! Thanks to P.U.R.T.®, we can knock out even the most stubborn urine odors, but we don't just mask the urine odors; we destroy the chemical compounds that cause these smells! 
Rug Cleaning Services 
Rugs often require specialty cleaning, which is exactly what you can trust your Chem-Dry carpet cleaning professionals to do. Our technicians are trained to offer professional cleaning for oriental rugs and area rugs in a wide variety of synthetic and natural fabrics.  
Stain Removal Services 
Do you have a stain that won't come out, like lipstick or permanent marker? Our technicians are experts at stain removal. With our Specialty Stain Removal Service, removing those tough stains out of carpets or rugs is easy. Even the most stubborn stains are no match for Chem-Dry.  
Chem-Dry is Proud to Serve Fort Myers & the Surrounding Areas 
At Chem-Dry, we are proud to provide the best carpet cleaning services in Fort Myers. All Chem-Dry franchises in Florida are locally owned and operated with a commitment to excellent customer service. 
Chem-Dry has earned positive reviews from local homeowners in Lee County, Charlotte County, Glades County, Collier County, Hendry County, and other parts of the Fort Myers metro area. 
Chem-Dry franchises provide professional carpet cleaning in: 
Rainbow Groves  

Campbell Acres 

Whitehead Creek 

Cyprus Court 

Brookhill 

Belle Vue  

Michigan Housing 

Liveoak Cross Lockwood 

Laredo Lakes 

Lincoln Park 

Southward Village  

Eastwood Village 

Love Joy Park 

Palms 

Sunset Park 

Poinciana Park  

Valencia Terrace 

Coconut Grove 

Allen Park 

Riverside Park 

Country Club 

Palm Lee Park 

Winkler 

Hamlet 

Breezewood 

Metro Park  

Argyle 

Carillon Woods 

Horizons 

Suntree 

Heritage Palms 

The Forum 

Colonial Country Club 

Pelican Preserve 

Reflection Isles 

Botanica Lakes  

Paseo 

Arborwood 
 
Ready to get started with a deep clean of your home's carpets? Contact your local Chem-Dry carpet cleaners by phone or online to book your next cleaning! 
 
Contact your local Chem-Dry today to book a carpet cleaning in Fort Myers, FL!