Find Carpet Cleaning Services in Cleveland
Chem-Dry Carpet Cleaning Services in Cleveland 
Chem-Dry is a leading choice for carpet cleaning services in Cleveland!  Cleveland is home to a number of colleges and universities. The most prominent among them is Case Western Reserve University (CWRU) which is a widely recognized research and teaching institution in University Circle. The city is also home a few major league professional sports teams including the Cleveland Browns, the Cleveland Cavaliers, and the Cleveland Guardians. 
Chem-Dry is a great option for maintaining a clean, healthy home in Cleveland. We use a Chem-Dry Green-Certified cleaning solution, called The Natural®, to clean carpets. The Natural is free from harsh chemicals, soapy detergents, and fragrances. Instead, it relies on  millions of tiny bubbles to provide a deep carpet cleaning. 
Chem-Dry is an excellent choice for professional carpet cleaning if you're fighting spots on your carpets from your kids or pets. We can remove dirt, grit, and deep-seated stains without a long dry time, providing you with clean carpets in no time!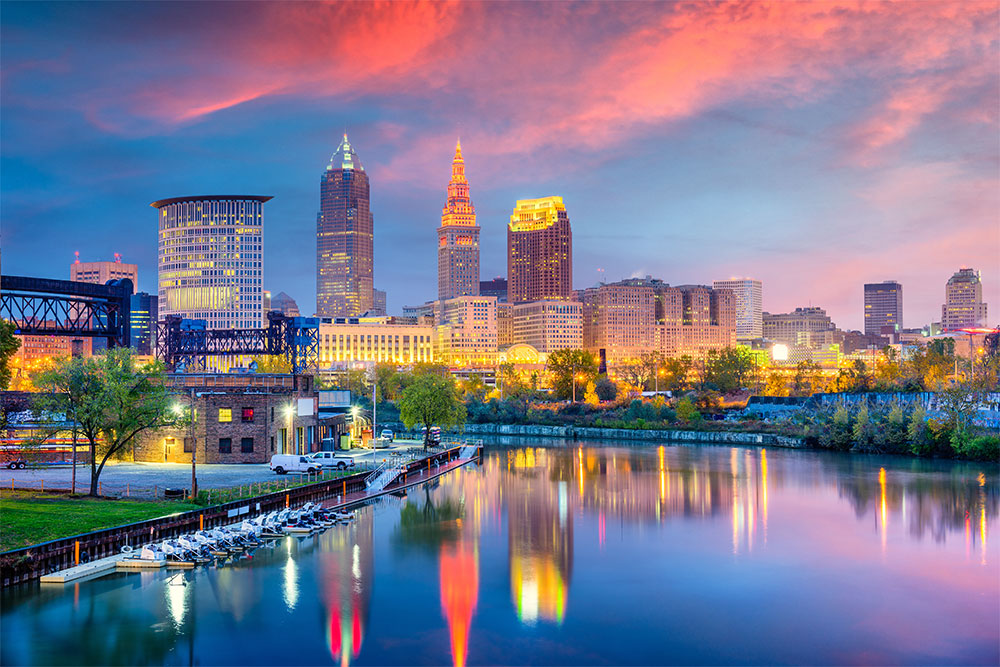 Cleveland's Carpet Cleaning Experts 
Chem-Dry is dedicated to providing the best carpet care in Cleveland. Our cleaning experts are trained to deliver a deep, professional clean for a healthier home. 
Our Carpet Cleaning Process 
The Chem-Dry carpet cleaning process is unparalleled and separates us from other carpet cleaning companies in Cleveland. 
Chem-Dry utilizes a Hot Carbonating Extraction cleaning process that uses approximately 80% less water than typical steam cleaning. We avoid soapy detergents and instead clean carpets using the natural power of carbonation with our core cleaning solution, The Natural®. 
This is how the Chem-Dry carpet cleaning process works: 
In order to remove dirt and grit that is already loose in the carpet, our carpet cleaners will vacuum your carpet using HEPA filter vacuums. 

Next, we will apply our Chem-Dry Green-Certified cleaning solution called The Natural®. It releases millions of bubbles deep into your carpet fibers. 

These bubbles latch onto the deep-seated soil and grime and lift it to the surface. 

Finally, our PowerHead® extractor will whisk away all of the dislodged dirt and grime. After we are finished, you can expect your carpet to dry in 1 to 2 hours. 
Thanks to this one-of-a-kind process, Chem-Dry doesn't leave behind soapy residues after cleaning. This lowers the risk of resoiling and means that your carpets stay cleaner for longer! 
Best of all, our process delivers a deep, long-lasting clean for you and your family! 
 
Additional Chem-Dry Services 
Chem-Dry can provide a deep clean for your entire home! For specific service details in your area, contact your local franchise. 
Upholstery Cleaning Services 
The Chem-Dry Hot Carbonating Extraction cleaning process works on upholstered furniture too! We provide upholstery cleaning services that are great for sofas, recliners, ottomans, and more. We also offer a specialty leather cleaning service.  
Rug Cleaning Services 
You can also trust Chem-Dry to properly maintain and clean your rugs! Our technicians are specially trained to offer professional cleaning for oriental rugs and area rugs in a wide variety of synthetic and natural fabrics. 
Stain Removal Services 
Chem-Dry technicians are stain removal experts! With our Specialty Stain Removal Service, we make removing tough stains like lipstick and permanent marker from carpet and upholstery seem easy. Even stubborn stains are no match for Chem-Dry! 
Pet Urine Cleaning Services 
Chem-Dry offers an exclusive Pet Urine Removal Treatment that is proven to remove 99.9% of pet urine odors! 
Proudly Serving Cleveland & the Surrounding Areas 
At Chem-Dry, we take pride in providing our neighbors in Cleveland with the best carpet cleaning service possible. Each Chem-Dry franchise in Ohio is locally owned and operated, with a dedication to excellent customer service.  
Chem-Dry has earned positive reviews from local homeowners in Cuyahoga County, Geauga County, Lake County, Lorain County, Medina County, and other parts of the Cleveland metro area. 
Chem-Dry franchises provide professional carpet cleaning in: 
Edgewater  

Detroit-shoreway  

Cudell  

Jefferson  

Linndale  
Bellaire-Puritas  

Cuyahoga Heights  

Old Brooklyn  

Newburgh Heights  

Central  
Mt. Pleasant  

Buckeye-Shaker  

Hough  

St Clair Superior  

Bratenahl  
South-Collinwood  

North Collinwood 
Are you ready to get started with a deep clean for your home's carpets? Contact your local Chem-Dry carpet cleaning company by phone or online to book your next cleaning! 
 
Contact your local Chem-Dry today to book a carpet cleaning in Cleveland, OH!