Find Carpet Cleaning Services in Chicago
Chem-Dry Carpet Cleaning Services in Chicago 
Chem-Dry is your source for carpet cleaning services in Chicago! Chicago is the third-most populous city in the United States and is home to many landmarks including The Willis (Sears) Tower, the Museum of Science and Industry, and the Navy Pier. Chicago is also home to two Major League Baseball teams, the Chicago Cubs and the Chicago White Sox. 
At Chem-Dry, our carpet cleaners work hard to help you maintain a clean, healthy home. Our unique cleaning process relies on the natural power of carbonation to deep clean your carpets. At the heart of our process, we use a Chem-Dry Green Certified cleaning solution that we call The Natural®, that is free from harsh chemicals. Soapy detergents, and fragrances. 
Chem-Dry is a great choice for home owners in pet-friendly cities like Chicago. Our professional carpet cleaning not only removes dirt, grime, and spots, but can also help extend the lifespan of your carpet. And our revolutionary Pet Urine Removal Treatment (P.U.R.T.® for short) is all you need for those stubborn pet accidents. It's been tested and proven to remove 99.9% of pet urine odors. We love the fact that we can offer customers a tried-and-true solution when it comes to professional carpet and upholstery cleaning.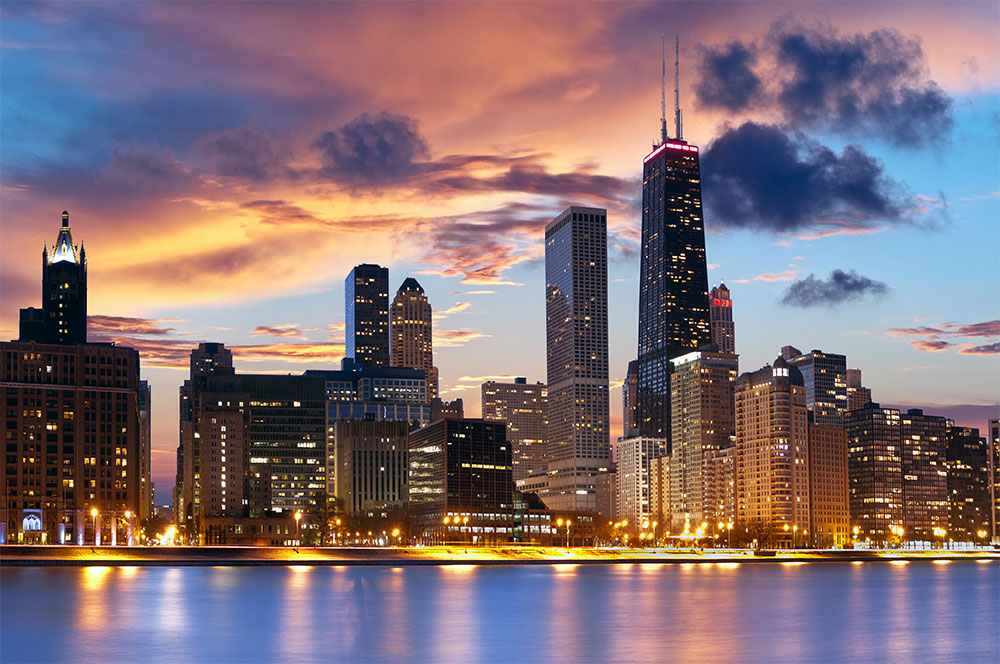 Chicago's Carpet Cleaning Experts 
Chem-Dry has been one of America's most trusted carpet cleaners for more than four decades. Our cleaning experts in Chicago make carpet cleaning a breeze for local families.  
The Chem-Dry Cleaning Process  
The Chem-Dry cleaning process sets us apart from other carpet cleaning companies in Chicago.  
Our innovative process is different from traditional steam cleaning methods as it doesn't require excessive amounts of water. In fact, our Hot Carbonating Extraction process uses about 80% less water than typical steam cleaning! 
This is what the Chem-Dry cleaning process looks like:  
To start, our carpet cleaners vacuum your carpets with a HEPA filter vacuum to remove dirt, grit, and allergens that are loose in the fibers. 

The Natural®, our Chem-Dry Green-Certified cleaning solution is applied next. It releases millions of tiny carbonated bubbles into your carpet that latch on to any soil or grime from deep in the carpet fibers. 

These tiny bubbles latch onto deep-seated grime. Once the bubbles pop, the grime is dislodged from the carpet fibers and lifted to the surface. 

The process ends with our technician whisking away the dirt and grime using our PowerHead® extractor. 
Once the process is complete, you can expect your carpet to dry in approximately 1-2 hours. Because this is such a short dry time, the risk for mold or mildew growth is reduced.  
Best of all, our process doesn't leave behind a soapy, dirt-attracting residue. This results in a lower chance of quickly resoiling, and means that your carpets will stay cleaner for longer! Chem-Dry can deliver a deep, long-lasting clean, and a healthier home for you and your family!  
 
Additional Chem-Dry Services 
We are more than just a carpet cleaning company! Chem-Dry offers a range of other cleaning services in the Chicago area for your entire home! For service details in your community, contact your local franchise. 
Pet Urine Cleaning Services 
If you have pets, you know how common pet stains and odors are. Chem-Dry offers an exclusive Pet Urine Removal Treatment that is proven to remove 99.9% of pet urine odors! Thanks to P.U.R.T.®, we can knock out even the most stubborn urine odors by destroying the chemical compounds that cause these smells! 
Upholstery Cleaning Services 
Chem-Dry uses the same unique Hot Carbonating Extraction cleaning process on your upholstered furniture, and it works wonders! Our upholstery cleaning service is perfect for all sofas, recliners, and more. We also offer a specialty leather cleaning service.   
Rug Cleaning Services 
You can bring the unique power of Chem-Dry cleaning to the area rugs in your home! We train our technicians to offer professional cleaning for oriental rugs and area rugs in a wide variety of synthetic and natural fabrics.  
Stain Removal Services 
Stubborn stains on your carpet can be a frustrating reminder of an accident. Let our professionally trained Specialty Stain Removal Experts get tough stains out of your carpets, rugs, and upholstery. 
Proudly Serving Chicago & the Surrounding Areas 
At Chem-Dry, our main goal is to provide the best carpet cleaning service in Chicago. All Chem-Dry franchises in Illinois are locally owned and operated with a commitment to excellent customer service. 
Chem-Dry has earned positive reviews from local homeowners in DuPage County, Kane County, Lake County, McHenry County, Will County, and other parts of the Chicago metro area. 
Chem-Dry franchises provide professional carpet cleaning in: 
South Deering  

East Side  

Roseland  

Chatham  

South Chicago  
South Side  

South Shore  

Englewood  

Hyde Park  

Back of the Yards  
Brighton Park  

Little Village  

Chinatown  

Near North Side  

Lincoln Park  
Logan Square  

Lake View  

Wrigleyville  

Edgewater  

Rogers Park 
 
Ready to bring a deep clean to your home's carpets? Contact your local Chem-Dry by phone or online to book your next cleaning! 
 
Contact your local Chem-Dry today to book a carpet cleaning in Chicago, IL!