Find Carpet Cleaning Services in Charleston
Chem-Dry Carpet Cleaning Services in Charleston 
Chem-Dry is a perfect choice for carpet cleaning services in Charleston! Charleston is a vibrant city full of history. The city is split into six distinct districts where downtown, sometimes referred to as "The Peninsula", is the center city separated by rivers on both the east and west sides. Charleston is home to America's first theater and America's first museum which was founded in 1773. The area is known for its local seafood, which plays a key role in the city's renowned cuisine but also has a lot of French and British influence. 
Chem-Dry carpet cleaners delight in providing cleaner, healthier homes for our customers. Our one-of-a-kind approach doesn't rely on harsh chemicals or soapy detergents, but rather we deep clean carpets with a Chem-Dry Green-Certified product called The Natural®. This cleaning solution relies on the natural cleaning power of carbonation to deep clean carpets and is safe for kids and pets! 
Our unique process makes Chem-Dry the perfect carpet cleaner for homeowners in the Charleston area. Routine carpet cleanings will not only remove dirt and grime but also help lengthen the lifespan of your carpets!  We love that we can offer customers a safer, healthier option when it comes to professional carpet and upholstery cleaning.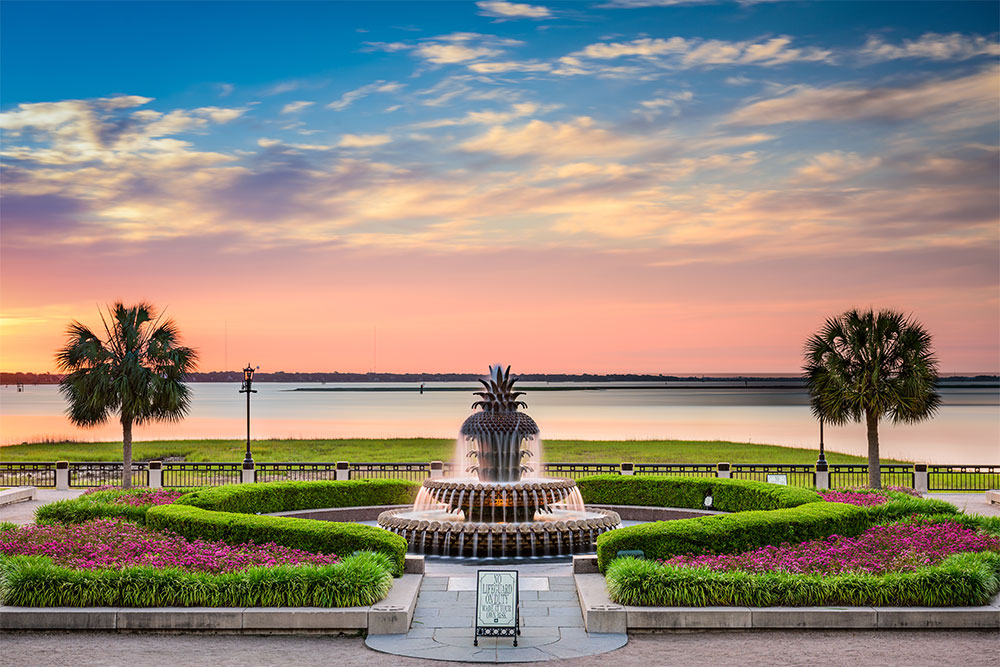 Charleston's Carpet Cleaning Experts 
For over 45 years, Chem-Dry has been the name homeowners trust in the carpet cleaning industry. Our professional carpet cleaners in Charleston are experts that you can trust to provide a thorough professional carpet cleaning. 
The Chem-Dry Cleaning Process  
The Chem-Dry cleaning process is unique and sets our franchises apart from other carpet cleaning companies in Charleston.  
Harnessing the power of carbonation is a key part of our one-of-a-kind Hot Carbonating Extraction process. This technique allows us to avoid using excess water or soapy detergents that are commonly used by typical steam cleaners.  
 Let's outline the process: 
To start, we vacuum your carpet with a HEPA filter vacuum to remove any loose dirt, grit, and allergens from the carpet fibers. 

Next, we apply our Chem-Dry Green-Certified cleaning solution called The Natural®. The Natural releases millions of tiny carbonated bubbles deep into your carpet's fibers. These bubbles target the deep-seated soil and grime and lift these unwanted elements to the surface of the carpet. 

Last, we extract the dirt and grime with our PowerHead® extractor.  
Once we're done, you can expect your carpet to dry in 1 to 2 hours. This short dry time reduces the risk of mold or mildew growth due to prolonged wet carpets. 
Due to our innovative process, Chem-Dry doesn't leave a soapy residue behind after cleaning. This lowers the risk of resoiling, which means your carpets stay cleaner for longer!  
This makes Chem-Dry the right choice for carpet cleaning in the Charleston area. Our unrivaled carpet cleaning process provides a deep, long-lasting clean, and a healthier home for you and your family! 
 
Additional Chem-Dry Services 
Chem-Dry is more than just a carpet cleaning company. We offer a variety of additional cleaning services for your entire home. For details on services provided in your area, contact your local franchise. 
Upholstery Cleaning Services 
Our unique Hot Carbonating Extraction cleaning process works wonders for furniture as well! We provide upholstery cleaning services that are great for sofas, recliners, ottomans, and more. We also offer a specialty leather cleaning service. 
Stain Removal Services 
Chem-Dry technicians are trained stain removal experts! With our Specialty Stain Removal Service, we make removing tough stains from carpets and upholstery look easy.  
Pet Urine Cleaning Services 
If you have pets, you know how common pet stains and odors are. Chem-Dry offers an exclusive Pet Urine Removal Treatment that is proven to remove 99.9% of pet urine odors! Thanks to P.U.R.T.®, we can knock out even the most stubborn urine odors by destroying the chemical compounds that cause these smells! 
Rug Cleaning Services 
You can trust Chem-Dry to properly maintain and clean your rugs. Our technicians are trained to offer professional cleaning for oriental rugs and area rugs in a wide variety of synthetic and natural fabrics. 
Proudly Serving Charleston & the Surrounding Areas 
Chem-Dry carpet cleaners have one important objective: to provide the best carpet cleaning service in Charleston. All Chem-Dry franchises in South Carolina are locally owned and operated with a commitment to excellent customer service. 
Chem-Dry has earned positive reviews from local homeowners in Charleston County, Beaufort County, Colleton County, Dorchester County, Berkeley County, Williamsburg County, Georgetown County, and other parts of the Charleston metro area. 
Chem-Dry franchises provide professional carpet cleaning in: 
Wando  

James Island  

Woodhaven  

Morris Island  

Johns Island  
West Ashley  

Rantowles  

Wildwood  

Mt Pleasant  

Sullivan's Island  
Are you ready to give your carpets a deep clean? Contact your local Chem-Dry by phone or online to book your next cleaning! 
 
Contact your local Chem-Dry today to book a carpet cleaning in Charleston, SC!