Find Carpet Cleaning Services in Albuquerque
Chem-Dry Carpet Cleaning Services in Albuquerque
Chem-Dry is the best choice for carpet cleaning in Albuquerque. With a mix of historic areas like Old Town and Route 66 combined with a modern, bustling downtown, Albuquerque is one of the most diverse areas in New Mexico. The close proximity of the Sandia Mountains and the Rio Grande provides abundant opportunities for outdoor activities.
Chem-Dry is proud to help you create a cleaner, healthier home. Our innovative approach to carpet cleaning relies on the power of carbonation. Millions of tiny bubbles reach deep into your carpet fibers to lift dirt and grime to the surface where it is whisked away by our powerful extraction equipment. Plus our core cleaning solution, The Natural ®, contains no soapy detergents, harsh chemicals, or fragrances. 
All of this makes Chem-Dry the right choice of carpet cleaning service for homeowners in the Albuquerque area. The dust, dirt, and sand that are so common in Bernalillo County are very abrasive and can actually damage your carpets over time. You can count on Chem-Dry to help! Routine professional carpet cleaning will not only remove dirt, grit, and sand but also extends the lifespan of your carpets.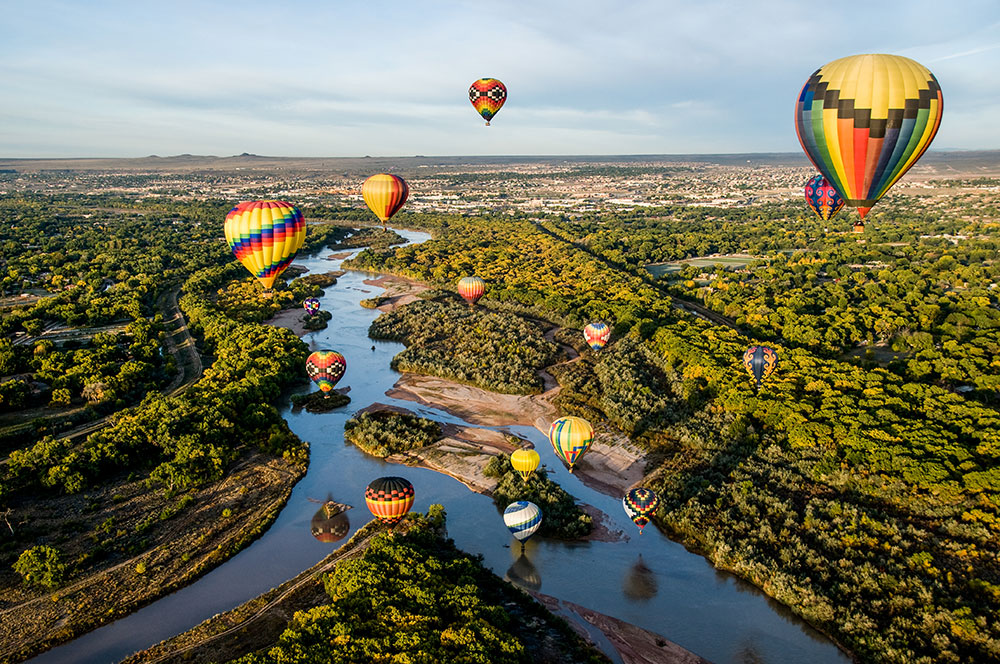 Albuquerque's Carpet Cleaning Experts
Chem-Dry has been a leader in carpet care for over 45 years. Our carpet cleaners in Albuquerque are experts that you can trust to provide a professional clean. 
Our Cleaning Process
Chem-Dry is different from other Albuquerque area carpet cleaning companies due to our unique cleaning process.
We don't use the large volumes of water or soapy detergents that steam cleaners often rely on. We harness the power of carbonation to clean carpets instead.
This is how our Chem-Dry carpet cleaning process works:
To start, our technicians will use a HEPA filter vacuum to remove loose dirt and grime from the carpet fibers.

Then we apply our Chem-Dry Green Certified core cleaning product called The Natural®. It sends millions of tiny carbonated bubbles deep into your carpet.

These bubbles reach the deep-seated dirt and grime and lift it to the surface of your carpet.

Our powerful PowerHead® extraction equipment then whisks it away. You can expect your carpets to dry in about 1 to 2 hours once we're done.
Due to our unique carbonating cleaning process, Chem-Dry doesn't leave behind a soapy residue after cleaning. This leads to a lower risk of resoiling and carpets that stay cleaner longer.
Compared to traditional steam cleaning, the Chem-Dry process uses a fraction of the water. This means that your carpets will dry in hours, rather than days, which reduces the risk of mold or mildew growth.
Best of all, our process delivers a deep, long-lasting clean, and a healthier home for you and your family!
Additional Chem-Dry Services
We don't stop at carpet cleaning. Chem-Dry can deliver deep cleaning for your entire home! Our carpet cleaning company in Albuquerque offers a range of other cleaning services. For specific service offerings in your area, contact your local franchise.
Rug Cleaning Services
You can trust the carpet cleaning professionals at Chem-Dry with your beloved area rugs too! Our technicians are trained to offer professional cleaning for

oriental rugs and area rugs

in a wide variety of synthetic and natural fabrics.
Upholstery Cleaning Services
Chem-Dry uses the same unique Hot Carbonating Extraction cleaning process on your upholstered furniture! Our upholstery cleaning service is perfect for all sofas, ottomans, recliners, and other types of upholstered furniture. We also offer a specialty leather cleaning service.
Stain Removal Services
Chem-Dry technicians are stain removal experts! We can help you remove tough stains like red wine or permanent marker from upholstery, carpets, and area rugs.
Pet Urine Cleaning Services
If you have pets, you know all about the stains and odors that pet urine causes. Chem-Dry offers an exclusive Pet Urine Removal Treatment that is proven to remove 99.9% of pet urine odors!
Proudly Serving Albuquerque & Surrounding Areas
At Chem-Dry, we aim to provide the best carpet cleaning services in Albuquerque. All Chem-Dry franchises in New Mexico are locally owned and operated with a commitment to excellent customer service.
Chem-Dry has garnered positive reviews from local homeowners in Bernalillo County, Sandoval County, Torrance County, Valencia County, and other parts of the Albuquerque metro area.
Chem-Dry franchises provide professional carpet cleaning in:
Belen

Bernalillo

Bosque Farms

Carnuel

Corrales

Edgewood

El Cerro

Jurales

Los Alamos

Los Chaves

Los Lunas

Los Maravillas

Meadow Lake

North Valley

Paradise Hills

Peralta

Placitas

Rio Rancho

Sandia Heights

Sandoval County

Santa Fe

South Valley

Tome

Valencia
Ready to have truly clean carpets? Contact your local Chem-Dry today via phone or online to book a cleaning!
Contact your local Chem-Dry today to book a carpet cleaning in Albuquerque, NM!