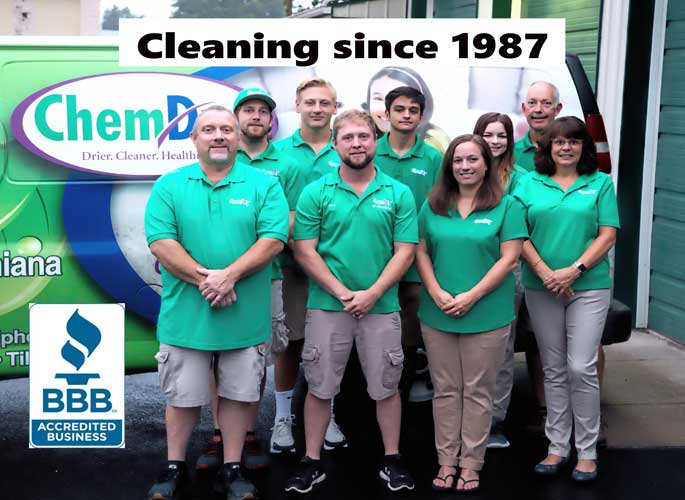 Click here to see our featured coupons
Proudly Serving
St. Joseph County, INDIANA
Our Services

Carpet Cleaning

Furniture Cleaning

Area & Oriental Rugs

Pet Urine & Odor Removal

Specialty Stain Removal

Tile & Stone Cleaning

Granite Countertop Renewal

Leather Cleaning / Restoration

Air Duct Cleaning

Wood Floor Cleaning

Water Damage Restoration

Commercial Services
Our Certifications/Awards





About Chem-Dry of Michiana
Chem-Dry of Michiana has been cleaning the area since 1987. For 33 years we have been providing the South Bend and Elkhart areas with a Drier. Cleaner. Healthier. way to clean. In Elkhart County call us at (574) 830-8545 and in St. Joseph County call at (574) 807-6965.
Book Online for an appointment or free estimate.
We've proudly received the Better Business Bureau 22 Years of Accredidation, we've received the Super Service Award from Angie's List in 2013 and 2014, we are members of the Chamber of Commerce, we are an II CRC Certified Firm, and we have received The Carpet & Rug Institute's Seal of Approval. You can trust us with all your residential and commercial cleaning needs!
When you choose Chem-Dry of MIchiana for your carpet and upholstery cleaning needs, you're getting a local business that uses the industry's finest in cleaning equipment and solutions. Chem-Dry uses a green certified cleaning solution that with the power of carbonation offers a deep, healthy clean. Our cleaning solution, The Natural, contains no harsh chemicals, is derived from Mother Nature and has no detergents. This allows  for a green clean that is non-toxic and safe for your kids and pets. And with the power of carbonation, we use 80% less water than steam cleaning so your carpets will dry in 1-2 hours!
Chem-Dry is the Drier. Cleaner. Healthier. way to clean your home. Call us for Carpet Cleaning, Upholstery Cleaning, Tile and Grout Cleaning, Oriental Area Rug Cleaning, Pet Odor Removal, and 24 Hour Water Damage Restoration. 
Our Servcie Area Includes:
St. Joseph, IN County: South Bend, Mishawaka, Osceola, Granger, Notre Dame, and New Carlisle.
In Elkhart, IN County: Elkhart, Goshen, Middlebury, Nappanee, Wakarusa, and Bristol.
Zip Codes we clean: 46637, 46635, 46530, 46613, 46614, 46615, 46616, 46617, 46619, 46628, 46545, 46544, 46514, 46516, 46517, 46507, 46540, 46528, 46526, 46550, 46573.
Our Certifications/Awards







Featured Coupons


Green & Clean! For a Healthier Home!
14% off Cleaning & Protecting Services. Includes Carpet, Upholstery, Tile and Rugs
Minimums Apply. Call for details. Offer only valid with Chem-Dry of Michiana


Chem-Dry can Help with Water Damage Clean-Up
Water Damage Specialists. Certified. Insured. Bonded.
Call for details. Offer only valid with Chem-Dry of Michiana


Green & Clean Tile Clean & Rug Cleaning!
14% off Tile & Grout Cleaning, Stone Polishing & Area Rug
Minimums Apply. Call for details. Offer only valid with Chem-Dry of Michiana
Chem-Dry of Michiana
Independently Owned & Operated
Proudly Serving
St. Joseph County, INDIANA
1800 Sterling Avenue
Elkhart, IN
46516