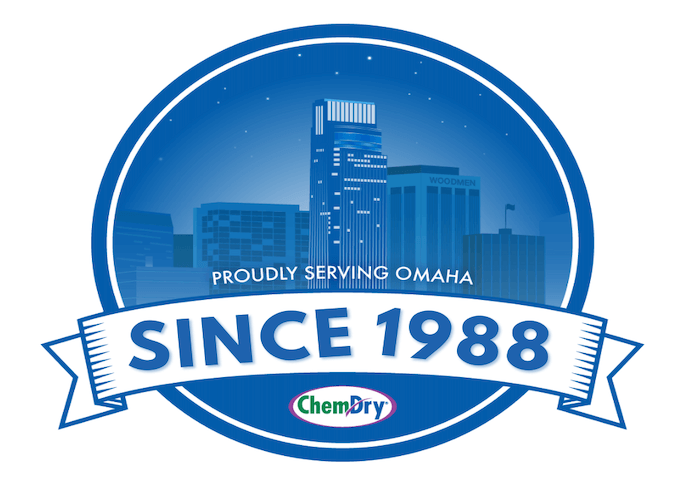 Click here to see our featured coupons
Proudly Serving
Douglas County, Sarpy County, and Saunders County, NEBRASKA
Our Services

Carpet Cleaning

Furniture Cleaning

Area & Oriental Rugs

Pet Urine & Odor Removal

Specialty Stain Removal

Tile & Stone Cleaning

Water Damage Restoration

Commercial Services
Our Certifications/Awards


About M.S. Chem-Dry
Since 1988, M.S. Chem-Dry in Omaha has been at the forefront of the carpet and upholstery cleaning industry with its innovative and powerful cleaning solutions. Our professional technicians are trained to deliver top-quality service at an excellent value. M.S. Chem-Dry specializes in Carpet, Upholstery, Fine Oriental Rug Cleaning, Expert Stain Removal, Spot Dying, Pet Odor Removal and Carpet Repair. We offer a 30-day customer satisfaction guarantee! This means if the spots we clean come back, so do we, for free! If quality is what you are looking for, then you have come to the right place.
We live here,we work here and we love this community. Our goal is to help our customers in the Omaha & Council Bluffs areas live healthier lives by providing you with clean carpets and a healthier home. We take pride in being a local carpet cleaning company that our customers rely on to deliver an amazing cleaning experience at an affordable price!
M.S. Chem-Dry's mission is helping people live healthy lives, which starts with clean carpets and a healthy home. Our proprietary hot carbonating extraction cleaning process penetrates deep into the fibers, removing an average of 98% of common household allergens from carpets and upholstery and 89% of the airborne bacteria in your home when a sanitizer is added.* Plus, our green-certified solution, The Natural®, contains no soaps or detergents so it's safe and non-toxic for your family & pets. And, Chem-Dry uses 80% less water than typical steam cleaning so carpets dry in hours instead of days, making it the safer and more convenient carpet cleaning choice. All of this means Chem-Dry cleans for your health like no one else.
Learn more about our Carpet Cleaning, Upholstery Cleaning, Area Rug Cleaning, Pet Odor Removal, and Commercial Cleaning. 
Our Certifications/Awards


Featured Coupons


FREE Spot Remover
Get a free can of world famous spot remover with carpet cleaning.
HCE. Restrictions may apply. Offer only valid with M.S. Chem-Dry


15% Off
15% Off Carpet Cleaning
HCE. Restrictions may apply. Offer only valid with M.S. Chem-Dry


Get $40 Off
Get $40 off when you spend $200 or more.
HCE. Restrictions may apply. Offer only valid with M.S. Chem-Dry
M.S. Chem-Dry
Independently Owned & Operated
Proudly Serving
Douglas County, Sarpy County, and Saunders County, NEBRASKA