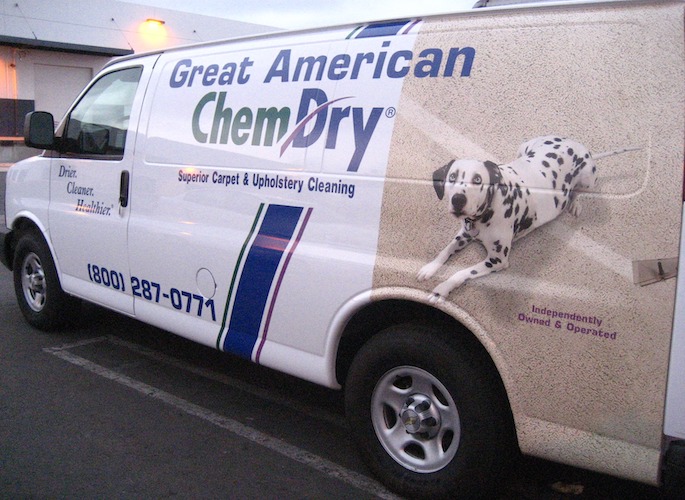 Click here to see our featured coupons
Proudly Serving
Oceanside/Carlsbad Area (In San Diego County), CALIFORNIA
Our Services

Carpet Cleaning

Furniture Cleaning

Area & Oriental Rugs

Pet Urine & Odor Removal

Specialty Stain Removal

Tile & Stone Cleaning

Leather Cleaning / Restoration

Wood Floor Cleaning

Commercial Services
Our Certifications/Awards


About Great American Chem-Dry
Great American Chem-Dry is family owned & operated and has been serving San Diego County since 1985 - longer than almost all of our competitors! We promise our customers honest, fair pricing with excellent service. We give Chem-Dry brand quality with locally owned pride. On top of cleaning carpets we also provide carpet repairs/stretching, emergency flood services, upholstery cleaning and tile, stone & grout cleaning.
Customers know the Chem-Dry name because of it's status as a world wide brand with leading technology in equipment and solutions. Our main product called The Natural® is a certified green and eco-friendly product. There are no soaps, solvents, or other harsh chemicals in it! That means it's safe and non-toxic for you, your family, and your pets. It uses carbonation bubbles to gently bring dirt and debris from deep in your floors out of your carpets. We don't have to use a lot of water so your carpets dry in 1-2 hours, not 1-2 days.
Our friendly technicians are trained to deal with many different types of carpets. You'll feel comfortable having them in your home and knowing they'll give you exceptional service. They are prepared to get out long time stains and spills and do it quickly and efficiently. Don't wait to get your carpets cleaned, give us a call and we'll let you know what great deals we have going now!
(800) 287-0771 - All of San Diego County
(858) 487-1077 - North County Inland
(760) 436-0334 - North County
(619) 281-2255 - San Diego Metro/
East County/South Bay
Learn more about our carpet cleaning, upholstery cleaning, pet odor removal, and commercial cleaning.
Our Certifications/Awards


Featured Coupons


CARPET CLEANING SPECIAL
Clean 3 Rooms For Only $99.95
Online
Traditional Cleaning Method. Minimum Restrictions Apply. Call For Details Offer only valid with Great American Chem-Dry


UPHOLSTERY CLEANING SPECIAL
Sofa & Loveseat Cleaned For $129
Online
Most Fabrics. Minimum Restrictions Apply. Call For Details Offer only valid with Great American Chem-Dry


20% OFF UPHOLSTERY CLEANING
20% OFF UPHOLSTERY CLEANING
20% OFF UPHOLSTERY CLEANING Offer only valid with Great American Chem-Dry
Great American Chem-Dry
Independently Owned & Operated
Proudly Serving
Oceanside/Carlsbad Area (In San Diego County), CALIFORNIA