Our Professional Carpet Cleaners' Guide to Coffee Stain Removal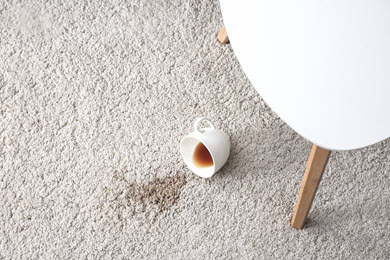 Mornings can be rough, and whether you're in a rush or trying to enjoy a lazy weekend, you're probably a little less coordinated than usual until after you've had your first cup of coffee. Unfortunately, this situation makes spills and accidents all too common. When a spill occurs on your carpet, you may wonder if you'll ever get that coffee stain out, or if it will become a daily reminder of your discoordination. 
The good news is that a small wobble doesn't have to turn into a costly problem when you know how to go about removing stains from carpet. Below, we've listed some of our professional carpet cleaners' top tips for getting rid of coffee stains, so you can enjoy your cup of joe every morning without worry.
Try These Coffee Stain Removal Tips
Since coffee is primarily water, you may wonder why it has such a stark staining effect. The inherent dark color, combined with the warm temperature of coffee grains work to accelerate the staining processes at the fiber level, making it harder to remove the spill. 
It's also important to remember that the coffee beans we grind on daily may have small amounts of oil in them. These oils stick to porous surfaces such as carpet fibers and lead to the discoloration we want to avoid. Add in the dark color, and it's a recipe for disaster!
Here's what you can do to minimize the effects of a coffee stain:
Start blotting quickly. 
If you have a wet vac, use that to remove most of the liquid from the spill. A wet vac will help to remove as much liquid as possible, as quickly as possible. If you don't have wet vac, blotting is your next best method.
The faster you can get to blotting the stain with a white paper towel or white dishcloth, the more liquid you will be able to absorb before it has the opportunity to sink into carpet fibers. As with most types of stains, you never want to use a scrubbing motion, as this will only promote the absorption of the dark liquid even further into the carpet. 
Flush the stain. 
When it comes to coffee stains, using a bit more water than is advised with other stain-causing substances can actually be helpful for flushing out the stain. Apply no more than a cup of cool or cold water to the affected area. Then continue dabbing with a white towel to absorb both the coffee and the added liquid. Again, if you have a wet vac, use that to pull as much liquid from the carpet as possible.
Work from the outside in. 
To prevent the discoloration from spreading and creating an even larger stain, be sure to start at the outside of the stain and work your way toward the center when using the above techniques.
Call on Our Carpet Cleaning Company for Effective Coffee Stain Removal
Although these tips can make a huge difference in reducing the severity of the coffee stain, you may still need professional support with removing it completely. At Chem-Dry, we have plenty of experience erasing even some of the most stubborn coffee stains. 
When you call on our expert technicians, you'll benefit from our in-depth carpet stain removal knowledge as well as our innovative tools and stain-fighting formulas. We look forward to making your carpet look like new again!
Contact Chem-Dry at (800) CHEM-DRY today to get started with our stain removal services for stubborn coffee stains!