Are you still unsure what to get dear old Dad?
June 15, 2015
Sunday June 21st is Fathers Day… are you still unsure what to get dear old Dad?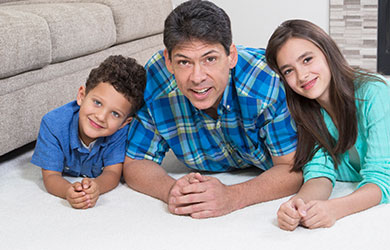 Dads work hard, really hard. So how about this Father's Day, we make up for the years of neck-ties and cuff links? …  but what should you get him?
If your Dad is anything like our Dads, he's probably rather fond of his chair. Right? When he's home, he probably lives in that chair. He uses his chair to take naps, read the paper, watch TV and his favorite sporting events. It's one place in the house that is all his. And of course, he has to have his snacks and drinks. Naturally, over the years, there have been plenty of spills.
You've tried cleaning it. But, even the best of intentions and efforts don't always get up all those stains. Over time, they can take their toll on the upholstery. You've thought of getting rid of Dad's chair and replacing it with a new one. But, he won't hear to that. After all, it's his favorite. He's got it broken in just the way he likes it.
Well, here's an idea - say thanks to your Dad by giving him a really great gift – one he can enjoy any day of the year – get his favorite chair or recliner cleaned by a professional upholstery cleaner (if he doesn't have a chair, clean that sofa or man cave)!  Cleaning upholstery is one of Chem-Dry's specialties along with cleaning stubborn stains. There's pretty much no stain Chem-Dry can't get out!
We use The Natural, the same eco-friendly carbonated cleaning solution we use to give your carpets that deep-down, healthy clean, to work wonders on upholstered furniture as well. That means Chem-Dry's cleaning process for upholstered furniture is safe for the dad in your life (and your entire family) and resists resoiling. And it will dry fast within hours, so it's perfect for getting your dad back into his chair quickly!
Oh, and we do leather cleaning as well!
Give a local Chem-Dry a call today. We'll help you "wrap up" the perfect gift for your Dad this Father's Day!