Upholstery Cleaning Gives Furniture a Fresh Start for the Year
January 26, 2022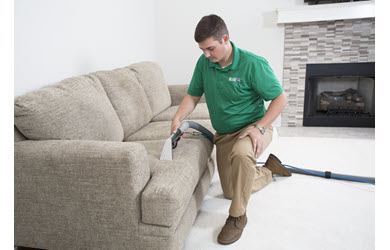 Is one of your New Year's resolutions to keep a cleaner home? Then now is the time to schedule upholstery cleaning from Chem-Dry.
The holiday season brings many joys and many messes, and along the way your furniture is likely to experience more use than usual. With more use comes more chances for accidental spills of festive drinks, crumbs falling in cushion cracks, and exposure to salt, dirt, and grime dragged in from the outdoors. 
Rather than live with the residue of last year's holiday fun, give your furniture a fresh start in the New Year. By scheduling a professional upholstery cleaning from your local Chem-Dry, you make your home cleaner, healthier, and more comfortable in 2022.
Our Upholstery Cleaning Services Provide a Clean Slate
In addition to being a prime place for spills and accidents to occur, your upholstered furniture also acts as one of the main air filters within your home. In other words, the upholstery fabric traps airborne dust and other tiny particles, keeping the air within your home healthier and easier to breathe. 
The problem is that when your furniture is not cleaned often, it can no longer perform this task. As a result, you'll be sitting on furnishings that are full of dust while also breathing air that is not as clean as it could be. Allow the experts at Chem-Dry to ensure your upholstered furniture is in tip-top shape and can continue playing its important role in your home. 
With our Hot Carbonating Extraction (H.C.E.) process, we are able to gently but thoroughly clean most types of upholstery, including natural and synthetic fabrics as well as leather. Our state-of-the-art process has even been proven to remove 98.1% of common non-living household allergens*. 
When you trust Chem-Dry to clean your couch, chair or other upholstered furniture, you're also choosing to make your home a healthier, more comfortable environment to live in. 
Fight Future Stains and Enjoy Cleaner Furniture for Longer
While spills are almost a fact of life, stains don't have to be. As part of your upholstery cleaning service, you can ask your local Chem-Dry technician to apply a special upholstery protectant to your furniture. 
Many furniture manufacturers use a stain guard when creating upholstered furniture, but this protection breaks down over time and becomes ineffective. Having an additional protectant applied during your professional cleaning will restore the barrier around the fibers within the upholstery. This shield will then provide a longer window of time for you to absorb stain-causing substances before they sink into your furniture. 
Make Upholstery Cleaning Part of Your New Year Routine
Are you struggling to remember the last time you had your couch or loveseat professionally cleaned? In this day and age, remembering such details is easier said than done. Without the appearance of stains on your furniture, you may forget about the importance of professional upholstery cleaning well beyond the point at which your furniture requires attention. 
Making a habit out of cleaning your upholstery in January, after the holidays, can ensure your furniture is always at the ready to be the backbone of your living space. Not only will you have less to worry about come spring cleaning time, but you'll also be sure to deal with the residues of holiday festivities as soon as possible. 
Learn more about scheduling a professional upholstery cleaning service in the New Year. Call Chem-Dry today at (800) CHEM-DRY to connect with a technician in your local area!