Understanding Deep Carpet Cleaning
June 22, 2022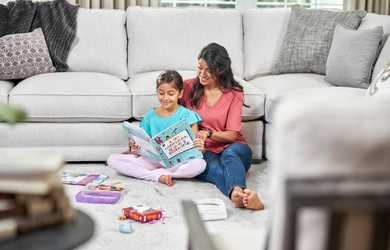 As a homeowner, deep cleaning is probably on your to-do list at least a couple of times a year. It feels good to know that every inch of your living space is free of dust, dirt, and debris. While deep cleaning your home is something you can do on your own, deep carpet cleaning is something that is best left to professionals. 
Unlike cleaning out clutter and dust bunnies from different corners of your home, deep carpet cleaning requires specialized equipment and formulas that are specifically designed to protect the delicate fibers of your carpets and rugs. 
When you understand what it takes to effectively deep clean carpets and area rugs, you'll have a better grasp on why partnering with a professional carpet cleaner can make such a huge difference for the comfort and health of your home.
Deep Carpet Cleaning Goes Beyond the Surface
As the term suggests, deep carpet cleaning requires a cleaning method that does more than get rid of surface-level dirt. That's why vacuuming, while essential, is not considered to be an effective method for extracting dirt and grime that have become compacted against the carpet's backing.
Scrubbing the carpet with various brushes and chemicals won't get the job done, either. In fact, taking this approach will only leave you with a sudsy mess, rather than actually extracting contaminants from your carpet. You'll be left with soapy residue that not only feels gross, but also attracts additional dust and dirt, creating an even bigger problem.
Deep Carpet Cleaning Requires Effective Machinery
For the best results, specialized equipment is needed to deep clean your carpet. This equipment should have the capability to safely extract dirt from deep within the fibers, as well as any liquids used in the cleaning process. As a result, the machinery must be both powerful and gentle, which is a fine line to walk. 
Some homeowners assume that they can simply rent a carpet cleaning machine and do a deep clean on their own. While this strategy is certainly an upgrade over scrubbing at the carpet's surface, there are plenty of disadvantages to attempting deep cleaning with a rented machine. 
For one, you can't be sure that rental machines are properly maintained, and most of them only have one heat setting that can damage certain types of carpets. Furthermore, most rental machines on the market do a poor job of extracting water and cleaning agents, leaving carpets soggy for days. This situation sets the stage for mold and mildew to form, which can degrade your carpet and make your home a less healthy space overall.
Deep Carpet Cleaning Requires Professional Knowledge
Once you understand that cleaning your carpets isn't quite as simple as washing your linens or mopping hard floors, you may be ready to reach out to someone who knows exactly how carpet cleaning should be done. 
At Chem-Dry, we understand the intricate nature of carpets and have created an innovative process that leaves them clean, fresh, and ready to be enjoyed within hours. Called Hot Carbonating Extraction, this process relies on a powerful extraction technique as well as the gentle effects of a carbonated cleaning solution made from non-toxic ingredients. This approach ensures that even the most deep-set and compacted dirt and grime can be lifted from the carpet backing and released from matted carpet fibers. 
We also possess the special knowledge required to deal with stubborn food stains and concerning pet accidents. Different stain-causing liquids require different treatments, and pet urine in particular must be dealt with carefully to prevent odors from lingering. Our pet urine removal treatment (P.U.R.T.®) and our Specialty Stain Removal service are the perfect complement to our Hot Carbonating Extraction process. The combination will leave you with a carpet that looks and feels deep cleaned.
Learn more about what makes Chem-Dry the right choice for deep carpet cleaning. Just give us a call today at (800) CHEM-DRY to get started with our services!