Looking for Top Rated Carpet Cleaners? Look No Further Than Chem-Dry
October 27, 2021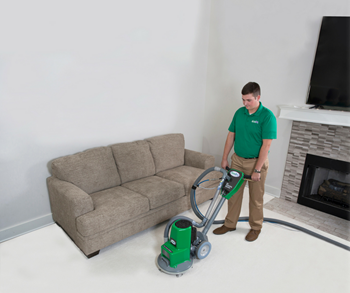 Are you a homeowner looking for top rated carpet cleaners? At Chem-Dry, we know firsthand just how magical our Hot Carbonating Extraction (HCE) cleaning process is. After all, we created this innovative process ourselves after realizing that steam cleaning just wasn't doing our carpets and upholstery justice. 
However, we know it's not what we think that matters most. When it comes to the effectiveness of our cleaning methods and the excellence of our services, our clients always have the last say.
Fortunately, you don't have to look far to find out more about how local customers feel about Chem-Dry. In fact, their opinions and detailed descriptions of their experiences are right at your fingertips. 
We have tons of online reviews and testimonials for you to read through to gain a better understanding of what you can expect when you choose Chem-Dry to help you achieve a cleaner, healthier, and more comfortable home.
What Makes Us Top Rated Carpet Cleaners?
What's so great about our many five-star reviews is that they offer unique insight into different aspects of our services, from the knowledge of our technicians to the dramatic results of our spot removal process. Below, we've detailed some of the different themes that come across in these honest testimonials and that have built our reputation for being top rated carpet cleaners.
Punctuality, Efficiency, and Professionalism
It's clear our customers appreciate our technicians' punctuality, as the vast majority of our reviews refer to this important quality. Many of our customers have commented that our technicians were "on time" or showed up "on the dot." 
We understand you can't schedule your entire day around having your carpets cleaned. You can count on us to remain committed to your convenience and arrive precisely at the time of your scheduled appointment. 
Not only are we punctual, but we're also efficient. We know our craft, and we are ready to do the job right without wasting your time. John H. mentioned that we were "fast and efficient," while Warren Z. said we "were in and out in about 1 hour."
Of course, we always do a thorough job and never cut corners to save a few minutes. It's this combination that has led many reviewers to emphasize how professional our technicians are. Janna F.'s review sums up our ethos: "They showed up right on the dot, came in, let us know what they would be doing, and quickly got to work!"
Effectiveness of Our Stain Removal Process
The fact that we show up on time wouldn't matter if we weren't able to deliver outstanding results. That's why our reviewers so frequently detail the effects of our stain removal process, both on carpets and upholstery. 
One customer explained, "I wasn't expecting too much because I was sure our couch was soiled beyond repair because of all the stains our dogs had left. But after seeing the results, I was in awe … Every single inch of the couch was flawless."
Mike O. had a similar experience. According to his five-star review, our Chem-Dry technician provided "very professional service and was able to revive our carpets along with removing pet stains and odors that were getting unpleasant." These experiences show just how revolutionary our HCE and P.U.R.T® (Pet Urine Removal Treatment) processes are and provide evidence they can truly exceed expectations.
Range and Flexibility of Our Services
While our HCE process works wonders on carpet, it can also deliver exceptional results for other surfaces in your home, including rugs and upholstered furniture. That's why our customers have cited us as being their "go-to for carpet cleaning." We've also been called out for our ability to make "area rugs look like they're new again." 
In addition to being top rated carpet cleaners, we also have a solid reputation for providing parallel services such as stone, tile, and grout cleaning and wood floor cleaning. One of our customer's left a five-star review describing how we "went above and beyond getting my wood floors as clean as possible." Another wrote, "they brought my kitchen and bathroom tile floor back to life and made it look like new again."
Gentleness of Our Products and Techniques
Many of our reviewers explain that they chose Chem-Dry because of our commitment to providing a deep, comprehensive clean in a safe and effective manner. For some, this is an issue of keeping their homes safe and healthy. 
For example, one customer elaborated in a five-star review on Google, "I try to be earth conscious in everything I do. Who wants bad chemicals in your home? Not me. I'm glad I discovered Chem-Dry for my carpet cleaning needs."
Our services are safe for every member of the family, including kids and pets, but their benefits aren't limited to the home environment. As top rated carpet cleaners, we can also deliver a high-quality clean for businesses of all types, and our HCE process is even gentle enough to be used in medical clinics. One of our happy reviewers stated, "We are an allergy asthma and immunology clinic and needed our carpets cleaned … We were here in the office while they cleaned and never smelled any chemicals whatsoever! … 10/10 would recommend!"
Partner with top rated carpet cleaners you know you can trust to be punctual, professional, and provide amazing results. To learn more about what we offer at Chem-Dry, give us a call today at (800) CHEM-DRY.