Winner of the Chem-Dry "Spring into a Healthier Home" Announced
May 18, 2015
Chem-Dry is excited to announce the winner of the 2015 Spring into a Healthier Home Contest...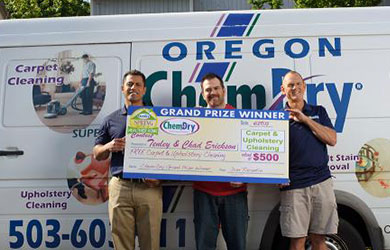 Tenley and Chris Erickson of Tigard, Oregon!
We asked consumers how a professional carpet and upholstery cleaning would help them create a healthier home for their family for a chance to win a free carpet and upholstery cleaning valued at $500.
Tenley saw the contest and told a very personal story of how when she and her husband purchased an older home three years ago, replacing the carpets was on their wish list as soon as budget would allow because Tenley suffers from Chronic Urticaria (hives), which is worsened by dust and and a carpet cleaning would make a huge difference in her family's health.
Here is the entry she shared with Chem-Dry:
"A Chem-Dry carpet cleaning would make a huge difference in the health of our family!  We purchased an older home 3 years ago and have not been able to afford to have the carpets replaced.  I suffer from Chronic Urticaria (hives) which is worsened by dust.  My elderly Mother lives with us and has asthma.  We also have 2 dogs.  I have tried to clean the carpets with a carpet cleaner, but I never seem to get it clean enough.  We would certainly benefit from a Chem-Dry carpet cleaning!"
The carpet and upholstery cleaning was awarded to Tenley and Chris in May, during National Asthma and Allergy Awareness Month, and will be performed by the experts of Oregon Chem-Dry.
"Indoor and outdoor allergies have long affected our family," Tenley said. "Dust, pollen and our dogs all contribute to tougher allergies for us. We are excited to have Chem-Dry help us, and we look forward to breathing a little easier this spring."
Chem-Dry gave away the carpet and upholstery cleaning to raise awareness about creating a healthy home environment. Without regular professional cleanings, contaminants that have built up in the carpets get stirred up, become airborne and circulate throughout the home when there is activity in the room, triggering symptoms for the millions of Americans affected by allergies or asthma. Now more than ever, maintaining indoor air quality is crucial for the 1 in 5 Americans who suffer from allergies and the 24 million Americans with asthma.
The owner of Oregon Chem-Dry, Mike Tanuvasa has been in business for over 30 years. "We are excited to help ease this local family's symptoms with our proprietary Hot Carbonating Extraction (HCE) cleaning process, which offers superior results."
Unlike other carpet and upholstery cleaning services in the market today, the Chem-Dry HCE process harnesses the power of millions of microscopic bubbles to penetrate deep into carpet fibers, lifting particles to the surface so they can be easily extracted. The brand's primary cleaning solution, The Natural®, is Chem-Dry Green Certified and doesn't contain any detergents or harsh chemicals, making it safe and non-toxic for kids and pets. Additionally, Chem-Dry uses 80 percent less water than typical steam cleaning, so carpets dry in a couple of hours instead of a couple of days. While most steam cleaners use an excessive amount of water that often soaks through to the carpet backing and creates a breeding ground for mold and mildew, Chem-Dry's low-moisture process doesn't carry the same risk and offers a safer and more convenient solution. The result is a deeper clean, faster-drying carpets, and a healthier home.
In a recent study conducted by a leading independent air quality laboratory in a cross-section of homes in the U.S. and internationally, results showed that the Chem-Dry HCE process removes an average of 98.1 percent of common non-living allergens* from carpets and upholstery. The non-living allergens tested were dog and cat dander and dust mite matter, some of the most common indoor triggers for allergy and asthma sufferers. 
Congratulations to Tenley and Chris Erickson for winning Chem-Dry's Spring into a Healthier Home Contest! And thank you to all who submitted entries. 
Keep connected to Chem-Dry for future contest announcements.
*Based on results from a study conducted by an independent laboratory using the Chem-Dry Hot Carbonating Extraction process. Allergens tested were dog and cat dander and dust mite matter. Figures are an average across multiple homes.