Sneaky Tricks to Keep the Guests From Dirtying Up Your Carpet This Holiday Season
December 08, 2014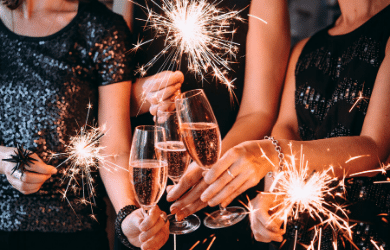 The holidays are one of the busiest, most exciting and magical times of the year. It's about joy, wonder, and the belief that miracles are possible. It's about family and friends coming together. But if your carpet could talk, it might be less enthusiastic than you are that the holidays are here. No matter how many (or how few) guests you are catering to, red wine spills, accidents and mud tracks happen—with your carpet being in the line of fire.  Here's some tips to preserve your carpet, all the way through the New Year.  
You Can Come In, But Your Shoes Have to Go
Think about all the 'little ones' you will have in your home this holiday season. Do you have a toddler that likes to play 'Santa's helper' by distributing the presents come Christmas morning? Are your sister's teenagers coming over for New Year's brunch? No matter how busy your home will become in the next few weeks, the only option is a clean one. Clean carpets are essential, which is why the 'no shoes, no service' rule is an easy one to implement! When guests arrive, have a shoe bin by the front door. Ask them politely to leave their shoes in the bin, and tell them the latest trend is wining and dining barefoot guests!
Make Rugs Your Friend (BFF, Actually)
If sugar cookie crumbs are the enemy for your carpet, then rugs are your friend. In fact, rugs are such an easy and decorative way to spruce up (and preserve) the condition of your rugs, you should do it whether it's the holidays or not! Consider the already-in-place motif of your living room (as well as other high traffic areas of your home) and pick a carpet that brings out those colors. Your guests just might comment on how "put together" your home looks!
For the Host Only: Apply This One Tip and Preserve Your Carpet, Easily
Vacuuming – you've heard about it, you know what it looks like and you probably use it once a week or so. But now that the holidays are here (with one down, a few more to go) it's more important than ever to utilize it. When you don't vacuum regularly, the condition of your carpets can quickly take a nosedive. Did your cousin dribble crumbs from a plate of crackers onto your carpet? Do you see a lipstick stain in the living room? Is that dirt in your hallway?
Blot liquid stains up with a paper towel or clean rag. Apply our Chem-Dry Stain Extinguisher (the perfect remedy for in between professional cleanings) and vacuum the affected area thoroughly.  Tougher stain? Call your Chem-Dry carpet cleaner for a healthy home 'kick start' before your guests arrive. Find your local Chem-Dry carpet cleaning operator or call us at 1-800-CHEM-DRY to connect you with a local operator for your holiday cleaning today.