Schedule Professional Carpet Cleaners Before Summer
May 24, 2023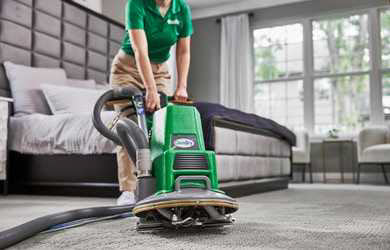 You've cleaned out your closets, scrubbed the oven, removed cobwebs from ceiling fans and high corners, and hosted a garage sale. At this point, you may feel like you've ticked all the boxes and can forget about spring cleaning until next year. 
However, there's one more task that must be done before your spring cleaning routine is truly complete: removing the build-up of dust, soil, and debris from your carpets. This may sound like an overwhelming responsibility to take on by yourself, but the good news is that you'd be better off calling on professional carpet cleaners to finish this final item on your spring cleaning to-do list. Then, you finally can say hello to summer vacation.
Why Now's the Right Time to Call on Professional Carpet Cleaners
You may be tempted to postpone a visit from professional carpet cleaners to later in the year. After all, following all that meticulous spring cleaning, you may feel like your home is already cleaner than it's been in months. However, if you haven't had your carpets professionally cleaned in several months, there are a number of reasons why it would be well worth your time to go ahead and schedule an appointment before you jump into summer fun.
First of all, you've put in too much effort in getting your home clean to ruin the fruits of your labor by continuing to live with dirty carpets. Keep in mind that carpets trap dust, pollen, and grime as they are tracked into your home on your shoes or when the windows are open. However, your carpets cannot hold onto infinite amounts of these particles. At some point, without deep cleaning, these particles will be released into the air you breathe.
While health is probably the most convincing factor to keep in mind, it's also worth considering how your home looks. Your living space will appear more polished on the whole when your carpets are deeply cleaned, fresh, and plush. You can bet that a guest who walks into your home won't be able to notice how much work you've put into spring cleaning if your carpets look gray and dingy or smell musty.
Finally, you won't want to overlook the importance of maintaining the longevity of your carpets. Most manufacturers recommend having carpets cleaned by professional carpet cleaners at least every six months, or every three if you have children or pets or suffer from allergies. Taking this step now can ensure it's out of the way so you can enjoy relaxing this summer and have one less thing to think about when the busy back-to-school season rolls around.
Prepare for Summer with Chem-Dry Professional Carpet Cleaners
Booking a professional carpet cleaning appointment with Chem-Dry at the end of spring can also help you prepare for what lies ahead this summer season. For example, if you have children who will be having friends over as they enjoy their break from school, you may want to consider having a stain protectant treatment applied to your carpet during the deep cleaning process. 
Provided as part of our Stain Fighter Package and the Fresh & Healthy Home Premium Package, this protectant will act as a barrier that shields carpet fibers from spots and stains. You'll have more time to soak up fruit juice spills, arts and crafts accidents, and other messes. It will also give you peace of mind as your family enjoys your free time and moves between the indoors and outdoors with more regularity.
If you're ready to wrap up your spring cleaning efforts by having your carpets deep cleaned, call (800) CHEM-DRY today to speak with our professional carpet cleaners in your local area!