Our Carpet Cleaning Company Supports Adopt-A-Dog Month
October 06, 2021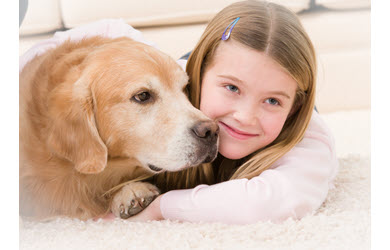 At Chem-Dry, we're all about making your home a healthier, more comfortable space for every member of your family, including your furry friends. Our carpet cleaning company helps thousands of homeowners every year clean up after their newly adopted pets. This month, we're striving to raise awareness about pet adoption by highlighting Adopt-A-Dog Month. 
We've seen so many of our clients fall in love with their adopted pets and successfully integrate them into their families. We're ready to spread the word about the importance of rescue pet adoption as well as how our carpet cleaning company can help new pet owners have confidence in keeping their homes clean.
Learn More About Rescue Pet Adoption
There are many myths and misconceptions surrounding the adoption of shelter pets. All too often this misinformation prompts families to turn to a breeder when they want to bring a pet into their lives. 
For example, some people assume all rescue pets are older or have behavioral problems. However, it's quite common for puppies and young dogs to end up in shelters. Sadly, many families bring home a puppy only to realize they're not ready to put in the work of raising it. 
It's also common for pets to be brought to the shelter because their humans are moving somewhere pets aren't allowed, or because they can no longer afford to take care of the pet. All of these animals deserve to have warm and loving homes, and it's only by families choosing to adopt that they can continue to live.
According to the ASPCA, approximately 6.5 million cats and dogs enter animal shelters in the United States annually. Unfortunately, only about 4.1 million animals are adopted from shelters each year. As a result, millions of animals are without a permanent home. 
Adopt-A-Dog month is all about raising awareness of this situation and encouraging families to consider the benefits that come with choosing to welcome a shelter pet into their heart and their home.
How You Can Celebrate Adopt-A-Dog Month
Wondering what you can do to participate in Adopt-A-Dog Month? One of the most obvious ways is to adopt an animal in need. For more information about shelters in your local area, check out the Best Friends Animal Society.
Of course, not everyone who wants to support Adopt-A-Dog Month can adopt a pet, and it's important to wait to adopt until you are fully ready to care for an animal. In the meantime, a great way to celebrate is to host a fundraiser. The American Society for the Prevention of Cruelty to Animals (ASPCA) has plenty of great resources available for those who are interested in DIY fundraising.
If you're short on time and can't start a fundraiser yourself, a simple way to help shelter animals is to give a donation to the ASPCA. Donations from generous individuals are essential to ensuring the organization can continue to facilitate rescues and adoption programs and educate people about the many animals in need in shelters across the country.
Looking to make an impact closer to home? Why not donate to a local shelter or rescue group in your area? Many towns and cities have multiple groups that work to find homes for dogs, cats, and other animals. Your donation would, no doubt, be greatly appreciated.
Our Carpet Cleaning Company Helps Keep Pet Owners' Homes Healthy
Chem-Dry utilizes an innovative carpet cleaning process called P.U.R.T.® (Pet Urine Removal Treatment). This process is incredibly effective at eliminating the stains and odors resulting from pet accidents. 
If you're worried about this aspect of adopting a dog or cat, you can have full confidence our carpet cleaning company will help keep your home fresh, clean, and healthy. With the help of our technicians, you can enjoy your new pet without worrying about pet urine odors lingering in your carpet. 
In fact, our P.U.R.T. process has been tested by an independent laboratory and shown to remove 99.9% of pet urine odors on average from carpets.
If you're looking to adopt a shelter pet and want to ensure your carpets and upholstery stay clean and stain-free as you get to know each other, learn more about our carpet cleaning company's services today by calling (800) CHEM-DRY.