Benefits of Having Your Furniture Cleaned
October 23, 2014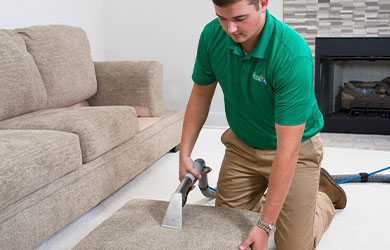 It's not just common sense, but a fact: when you have clean carpets and upholstery, you just feel healthier. Don't you? On the flip side, doesn't it give you the creeps when you sit on a fabric couch or leather sofa that's been with you through three moves, ten years and two toddlers—and without so much as a professional cleaning? If your upholstered furniture looks dirty, it's dirty…very dirty. Here's why your furniture is desperate for a deep clean—and it's got everything to do with healthy living for you and your entire family.
Sitting on a Soiled Couch is Unsanitary
Have you taken over the role of 'professional upholstery cleaner' in your household? Do you tend to think, "Why hire someone to do the job I can do myself?" It's ok to admit: some of us just don't like to pay someone else to do a job we think we can do ourselves. The problem is, most of us don't understand how comprehensive a professional cleaning is—and how deep it goes.
Your local Chem-Dry technician will be one of the first people to tell you that when your home is not properly cleaned, health problems can—and often do—follow. That's because while you may be able to absorb the stains and spills that are visible to the naked eye, your job is only half-way done. Why? Because dirt and odors may have become absorbed into the fibers of your furniture and will remain there until it's properly deep cleaned. For example, if your dog soiled your fabric couch, you'll be successful at cleaning up the couch—which is where most people end their job.
The problem is, an odor usually lingers and will remain until it can be professionally deep cleaned and extracted.
Your local Chem-Dry professionals know that you put pride and care into your furniture—which is why they put pride in how they treat it. Contact a local Chem-Dry operator in your area and ask them about their upholstery package for extra protection. Contact them today and watch your whole family feel the difference, tomorrow!