Winner of Spring Cleaning Contest Announced
October 15, 2013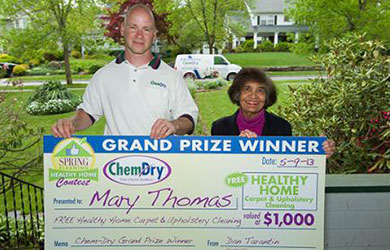 A Montclair resident was chosen recently as the winner of upholstery cleaning service Chem-Dry's first national Facebook contest. Just in time for spring cleaning, Mary Thomas was awarded a $1,000 "Healthy Home" carpet and upholstery cleaning package. 
The prize means more than a cleaner home for the recipient. After being diagnosed with kidney failure, Thomas said she was determined to do whatever it would take to have a healthy recovery. When discussing treatment options, her doctors recommended home dialysis for convenience, but emphasized the importance of having clean carpeting in her home to prevent getting an infection through her catheter.
Cost was an issue for the Montclair woman. With medical bills piling up, she realized that hiring a professional cleaning service would be out of her budget. Then she discovered Chem-Dry's Facebook "Healthy Home" contest and tried her luck.
Upon learning that she was selected as the contest winner, Thomas said she felt better about her chances for staying healthy while undergoing dialysis at home.
"Chem-Dry has blessed me with a prize that will greatly benefit my health," she told Patch. "I will now have more control over my disease because I can start home dialysis treatment knowing my house will be as clean as possible to decrease my chances of getting an infection or having trouble breathing." 
Chem-Dry, which has a local branch in Clifton, has a slogan, "Drier, Cleaner, Healthier," that means a lot for Thomas. She said she can now have peace of mind, knowing her carpet will be as clean as possible and free of moisture.
Thanks to her good fortune, Thomas said she can now start this new phase of her life on the most positive note and in the healthiest way.
Additionally, a free $250 carpet cleaning was awarded to second place winners Sandy Wallace and Wendy Higgins.
Make sure to 'Like" Chem-Dry to know your next opportunity to win a free carpet cleaning and other great prizes from Chem-Dry!