Five Minute Carpet Cleaning
December 09, 2014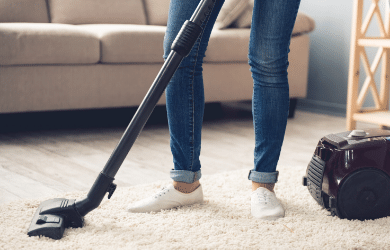 We get it, you're busy. You've got a million things to do, especially during this time of year. You may even lie awake at night and think, "How in the world will I get it all done?" However, no matter how many things you need to accomplish this week (deadlines at work, errands to run and holiday parties to plan), nothing is more important than the health and happiness of your family. And, health and happiness starts at home. Here's our quick fix for your time crunch! Clean your carpets in as little as five minutes a day!
Make Your Vacuum Accessible
When it comes to vacuuming (the number one tool for a healthy and happy home!) make yours easily accessible – and you're likely to use it more. Many home owners have every intention of vacuuming more than once a week –if only they could remember to. Your evenings are busy with cooking, catching up on your spouse's day and helping your kids with their homework. But, everyone (including you) has five minutes to spare. Take your vacuum out of the basement and into the hall closet so you'll be reminded to vacuum more often. When it's within sight, you'll develop great cleaning habits that will make a huge difference on the overall health of your home. When you vacuum regularly, it won't take but a few minutes to suck up the dirt, dust, and grime you and your family have dragged in from the outdoors.
Do a Quick Two Minute Spot Check
Do you have a few more moments to spare? Great! Then you have time to do a quick 'spot check' in the high traffic areas of your home. Check the hallways, living room, dining area and bedroom for spots, stains and spills you haven't noticed before.  Did your husband spill a few drops of wine last night onto your beige rug? Did you drop your red lipstick on the bathroom carpet? Did your kids drop their Sippy cup on the dining room floor, causing dried milk to stain the carpet?
Make a note of where the stains and spills are located, and contact your local carpet cleaning Chem-Dry professional to do the job for you. Do you want an affordable expert to do the job? Contact Chem-Dry today at 1-800-CHEM-DRY to find a local Chem-Dry in your area or find one with our Chem-Dry franchise locator today and they'll quote you with a price you can feel great about. But, just wait until you watch them transform your carpets from spotty to sparkly! You'll discover brand new looking carpets that bring health and happiness to the New Year!