Deep Carpet Cleaning Removes a Variety of Contaminants
April 12, 2023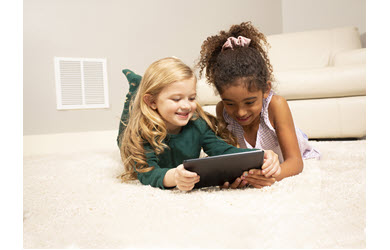 When you think of deep carpet cleaning, you likely picture results that have your carpet feeling soft and springy, smelling fresh, and looking brighter than before. It's important to choose a deep carpet cleaning service carefully, as not all of the methods used by carpet cleaning companies will leave you with these ideal results.
At Chem-Dry, we take pride in delivering a comprehensive clean with our deep carpet cleaning processes. Our services tackle a range of different types of dirt and grime, each of which can negatively affect your carpet and your home in different ways. 
As we provide a number of specialty carpet cleaning treatments designed to target these specific issues, you can trust that we will leave your carpet looking great no matter what kinds of soil it previously contained.
Common Contaminants Removed by Deep Carpet Cleaning
Your carpet is exposed to a number of contaminants on a daily basis, especially if you have children or pets in your home or if you enjoy having guests over or hosting events. In an ideal world, your carpet would stay clean and fresh no matter what came its way. 
With Chem-Dry as your partner in deep carpet cleaning, you can get as close to this ideal world as possible by enlisting us to remove the various forms of dirt and contaminants that become embedded in carpet fibers over time.
Here's a brief inventory of just a few of the contaminants we can tackle and how our carpet cleaning processes get the job done right.
Pet Urine
Exposure to pet urine is a serious concern for your carpet and the health of your home. As the urine dries, it doesn't just evaporate into the air. It actually leaves behind urine crystals that cling to carpet fibers and continue to release a noxious odor. Without deep cleaning and expert care, you may find the stubborn consequences of a pet accident too difficult to bear.
Fortunately, we have the process of neutralizing pet urine crystals and related stains and odors down to a science. We employ our P.U.R.T. (Pet Urine Remote Treatment) process to carefully target residual urine in a way that is effective, but gentle enough to be safe for your carpet and for use around your furry friends. 
Our technicians begin by identifying all existing urine deposits with a UV light. Then, we utilize our Hot Carbonating Extraction (HCE) deep carpet cleaning process to remove any excess liquid and loosen urine crystals. Finally, we apply the P.U.R.T. solution, which penetrates the carpet and destroys urine crystals at the molecular level, eliminating rather than masking odors.
Everyday Dirt and Soil
Dirt and soil are tracked onto and compacted into your carpet through everyday use. While you can certainly slow this process by having a no-shoes policy in your home, at some point you will begin to notice signs of dirt and soil becoming embedded in your carpet. 
One of the most common signs of this process occurring takes the form of traffic lanes. Traffic lanes are easy to identify as they appear with a darker, dingier color and flattened texture in the areas that receive the most foot traffic. Traffic lanes typically start to show up in hallways and doorways. You may also notice that sections of your carpet have more dirt and soil in areas where your children or pets play and rest.
Our HCE process was carefully designed to lift away compacted dirt and soil from both carpet fibers and the backing of carpets. With its carbonated, detergent-free cleaning solution, The Natural®, HCE effectively propels deep-set dirt and soil to the surface, erasing many of the effects of everyday use and helping minimize visible traffic patterns.
Dust, Dirt, and Other Airborne Particles
Many homeowners do not realize their carpets act as an indoor air filter. When carpeting is at its peak performance, it effectively traps and holds onto airborne dust and dirt. In doing so, carpet helps keep these irritating airborne particles from circulating within your home and dragging down its indoor air quality.
Of course, when too much dust and tiny particles of dirt are compacted within carpet fibers, both the quality of your indoor air and the longevity of your carpets will suffer. Layers of dust can rub against the delicate materials carpets are made of, and this friction leads to early signs of wear and tear.
Fortunately, our HCE process can whisk away dust, pet dander, and gime with ease, so your carpets can continue contributing towards comfortable and healthy conditions within your home.
Food Residues and Stains
Food residues represent one of the most frustrating carpet contaminants because they can so easily become stubborn stains. Everything from wine and chocolate to ketchup and grease can pose a threat to your carpets, but this doesn't mean you should only indulge in your favorite treats within the confines of your kitchen.
Our deep carpet cleaning and specialty stain removal service takes on some of the most worrisome spots and stains. We can even apply a stain protectant to shield your carpet from food residues in the future. 
There's a reason our motto is "If we can't get it out, no one can!" We are proud to be the professionals homeowners turn to when they are dealing with tough stains.
Experience how our deep carpet cleaning services can remove common contaminants from your carpets! Call (800) CHEM-DRY today to get started.