Schedule Deep Carpet Cleaning for the Holidays
November 09, 2022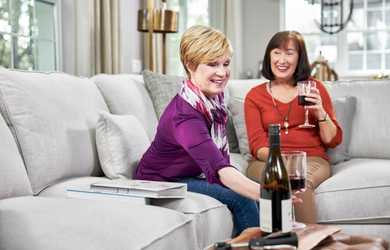 From Thanksgiving dinner to Christmas morning to New Year's Eve, some of the year's most highly anticipated moments are often best spent in the comfort of home surrounded by loved ones. The season of holiday festivities will be upon us before we know it, and many homeowners are finding themselves wondering if their homes are ready to host friends, family, and cozy gatherings. Making a deep carpet cleaning appointment with your local Chem-Dry technician is one simple way to gain peace of mind. Your home will look great, smell fresh, and be a comfortable and healthy space where you can spend the holidays with the people who mean the most to you. 
How Deep Carpet Cleaning Can Enhance Your Holiday Experience 
Whether your extended family will be lounging next to the couch following a filling Thanksgiving meal, or your grandchildren will be unboxing their Christmas presents around the tree, your carpet will likely be the focal point of the upcoming season's hustle and bustle.
If the accumulation of soil, dust, and dander has your floor looking a little worse for the wear, our deep cleaning process can spruce it up in no time. You can welcome guests with the knowledge that your carpets have been thoroughly cleaned before the festivities get into full swing. 
You'll be able to focus on what really matters - making memories with the people you love - rather than worrying about toddlers playing on a dirty floor or trying to hide musty odors with scented candles. In other words, you can enjoy a more comfortable and relaxed holiday season when you give yourself the gift of deep carpet cleaning.
Learn More About Our Deep Carpet Cleaning Process
Here's how our Hot Carbonating Extraction process works to break up and lift away deep-set soil, remove spots and traffic patterns, and knock out troublesome odors from your carpet.
It all starts with a better deep carpet cleaning solution.
Our exclusive cleaning solution, The Natural®, plays an essential role in our deep carpet cleaning process. Rather than utilizing soapy detergents or caustic chemicals, The Natural is made up of ingredients that are gentle on your carpet and safe for use around your children and pets. Most importantly, this formula is effective at cleaning without leaving behind a sticky residue that draws dirt back into carpets.
We put the power of carbonation to work.
Not only is The Natural an effective cleaning solution, but it is also carbonated to give its cleaning power an extra boost. The millions of microscopic bubbles in the carbonated formula get to work loosening dirt and stain-causing substances from carpet fibers, easily reaching deep into the carpet in the crevices where your vacuum simply can't.
We extract dirt rather than washing it away.
One of the benefits that Hot Carbonating Extraction has over steam cleaning is that it uses only a fraction of the water that steam cleaning requires. Instead of relying on huge volumes of water to wash away dirt and grime, our carbonated cleaning solution brings soil to the surface to be extracted by our PowerHead® equipment. As a result, your carpets will be dry in just a few hours, and you can get on with your holiday preparations as normal.
A cleaner, more comfortable home for the holidays starts with deep carpet cleaning from the trusted professionals at Chem-Dry. If you'd like to schedule an appointment with a local technician, call (800) CHEM-DRY today!