Tips for Choosing Professional Upholstery Cleaners
March 29, 2023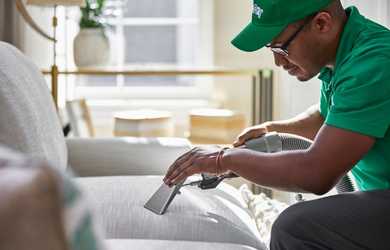 While you may wish your upholstered furniture could look brand-new forever, you can't expect it to when it is experiencing the effects of daily use. Spots, stains, and a dull appearance from general wear are to be expected, but these blemishes don't have to become a permanent part of your favorite furnishings. To refresh your furniture, and keep it looking great despite the passage of time, it's necessary to call on professional upholstery cleaners. 
Of course, different upholstery cleaners use different approaches. It is important to understand how your upholstery is going to be cleaned by a professional team before hiring them. Moreover, you'll want to do your research to ensure they have the expertise and resources to care for your favorite furnishings in a way that extends their lifespan. Because regular and proper cleaning can increase the enjoyment your family can get out of your furniture over the years to come.
4 Tips for Find the Best Upholstery Cleaners for Your Needs
We know this can all be a little overwhelming at first, but once you find a cleaning company you're happy with, you'll know exactly who to call when dealing with an accidental spill or when it's time to refresh your couches and loveseats.
Check out the tips below to learn about the considerations you'll want to keep in mind before hiring an upholstery cleaner.
Tip #1: Explore the full range of services and the types of upholstery they clean.
Chances are you have more than one type of upholstery in your home that needs to be cleaned. Therefore, it's important to research the service offerings of different companies to make sure they have the capability and expertise to get the job done right for each piece. This includes in-depth knowledge and experience working with a wide range of fabrics and types of furniture.
Tip #2: Understand the cleaning techniques used by the upholstery cleaners.
There are several techniques that can be used to clean upholstered furniture, from steam cleaning to dry vacuuming. However, these techniques don't all produce the same results, and some can be more damaging to delicate fabrics than others. As it is important to maintain the integrity of the dye pattern of your upholstery, you'll want to gain a clear understanding of the cleaning method used to make the right choice for your cherished furnishings.
Tip #3: Review the company's reviews to gain insight into their experience.
Some of the most insightful information you'll find about an upholstery cleaner will be in their reviews. Opt for cleaning companies that have several years of work under their belt and plenty of reviews detailing other customers' experiences. The companies on your short list should be happy to offer up references when asked. You should also be able to find reviews from customers posted on a number of online platforms.
Tip #4: Keep cost in mind, but don't make it the deciding factor.
Some companies charge by the hour and others by the piece, making the company's pricing structure an important thing to consider. While you'll of course want to compare quotes from several companies before making a decision, avoid allowing these numbers to become the main way you differentiate your options. The quality and effectiveness of the service always comes first, as it will dictate how well stains are removed, how often you'll need to have your upholstery cleaned, and, most importantly, how long your furniture will last.
Are you eager to work with professional upholstery cleaners who have plenty of experience and can help you enjoy your furnishings to the fullest? Reach out to Chem-Dry today at (800) CHEM-DRY to learn more about our exceptional upholstery cleaning services.