Our Proprietary Process For Carpet Cleaning and Upholstery Cleaning
May 02, 2023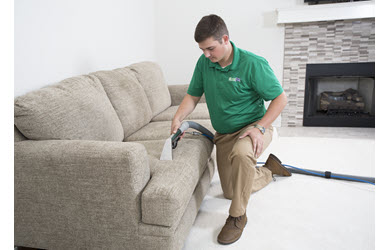 For more than four decades, homeowners have turned to Chem-Dry for a more effective approach to carpet cleaning and upholstery cleaning. Our innovative cleaning process offers a deep clean for both carpet and upholstery fibers, all without using harsh, sudsy detergents or the large volumes of water that other methods require. 
It's thanks to this proprietary process that we are able to take a well-rounded approach to cleaning, not only getting rid of dirt and soil but also removing spots and odors. If you're interested in learning more about this versatile carpet cleaning process and how it can make a difference for your home, read below!
Understanding Our Innovative Carpet Cleaning Process
Let's start by taking a closer look at the Hot Carbonating Extraction (HCE) process itself. The origins of this carpet cleaning process go back to Chem-Dry founder Robert Harris's realization that the methodology of applying club soda to clothing stains could translate to carpets as well. In an effort to move away from the sticky residues and excessive water usage of traditional steam cleaning, he helped develop the HCE concept into the effective and innovative carpet cleaning process it is today.
Carbonation is extremely powerful, and it has the capability to separate dirt from carpet fibers at the molecular level. This removes the need for harsh detergents, which are often difficult to wash out of carpets and can leave behind a residue that acts as a magnet for soil.
In the HCE cleaning process, our Chem-Dry Green Certified cleaning solution called The Natural® is carbonated and applied to carpets. Through the release of tiny carbonated bubbles, The Natural is able to gently loosen dirt and grit from both the carpet backing and fibers. 
These contaminants then rise to the surface. From that point, we use our PowerHead® extraction machinery to whisk away the liquid and soil, leaving carpets fresh, plush, and dry within hours.
Our Cleaning Process is Ideal for Both Carpets and Upholstery
Your carpets aren't the only soft surface in your home that can benefit from the power of our deep-cleaning process. Your upholstered furniture can also easily and effectively be cleaned with HCE. Here are three reasons why this versatile process is so ideal for these two types of cleaning.
1. It does not leave behind excess moisture. 
Nothing is worse than a soggy carpet, except perhaps a soggy sofa. Thanks to the HCE process, you can have your upholstery fabrics cleaned without worrying about them staying wet for long periods of time. In fact, only a few hours of drying time should be necessary. Furthermore, this process can work for a wide variety of textiles and for practically any piece of furniture, from large sectionals to petite ottomans. 
2. It removes odors. 
Both your carpets and your soft furnishings can hold onto odors, contributing to an unpleasant smell throughout your home. As much as you may be frustrated by this situation, you may not know how to get rid of these odors without ruining your favorite pieces. You'll finally get relief from odors, whether caused by dust, pet accidents, or food residues when we use HCE for carpet cleaning and upholstery cleaning.
3. It gets rid of stains.
Stains can be a real issue for your carpets and upholstery as they can completely marr the look of a room and be difficult to mask depending on where they are located. HCE is incredibly effective at lifting up deep-set stains and restoring the beauty of carpets and soft furniture. Rather than scrubbing away at stains only to find that you're pushing them even further into the fabric fibers, trust our experts to gently remove stain-causing elements using the power of carbonation.
Experience the difference our proprietary carpet cleaning process can make for your home! Reach out to us today at (800) CHEM-DRY for details about scheduling an appointment.