Understanding Our Carpet Cleaning Service Protectant Package
November 17, 2021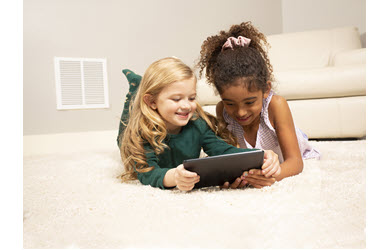 Your rugs and carpets experience plenty of use over time. From relaxation time to party time, your carpets see it all! That's why it's so important to give them the care and protection they deserve with our specialized carpet cleaning service.
With so much going on every day, stains and spills are simply inevitable. While having pets and children can up the risk of accidents significantly, we all know adults also have their fair share of spills! The good news is you can protect your carpets from these fateful incidents with the help of the Carpet Protectant Package from the experts at Chem-Dry.
How Our Carpet Cleaning Service Protectant Package Works
Many carpets are created to be stain-resistant, but this factory-applied stain repellent can become less effective over time. Eventually, it will fade away, and your carpets will be all too vulnerable to stains; often without you even realizing a change has occurred. 
We've designed an entire Protectant Package to add to our carpet cleaning service, resolving this issue with ease. The Chem-Dry ProtectantTM Package is fast-acting, heavy-duty, and works in tandem with our innovative Hot Carbonating Extraction cleaning process. 
By opting for this package, you can quickly refresh and revitalize the prior performance of your stain-resistant carpets. Our technicians will work to establish a strong barrier around susceptible carpet fibers, enabling them to resist soiling. As a result, you'll have a window of opportunity to remove spills before they sink in and stain your carpets.
The Revolutionary Protectants Used by Our Carpet Cleaning Service 
We utilize a trio of cutting-edge protectants that revitalize carpets and reinforce them with amazing stain-resistant power. Here's a quick look at how these protectants work in action.
PowerGuard Protectant®
Do you have solution-dyed carpets? The PowerGuard protectant works especially well with these carpet types. This stain protectant offers a helpful boost to carpets by reinforcing their stain-resisting qualities. You'll have greater peace of mind and your carpets will have a cleaner appearance for longer.
Repel Protectant
The fibers of your carpets are so tiny and delicate, you may wonder how it's possible to protect each and every one. The answer is our Repel Protectant. 
This solution offers exceptional results for all kinds of carpets and builds a shield of protection around each individual carpet fiber. Stains will hardly have a chance to set thanks to this liquid-repelling protectant, providing you with enough time to soak up liquids that would otherwise stain your carpets.
Wool Protectant
Rugs and carpets made with wool often need a bit of special treatment to ensure their structural integrity for the long run. Fortunately, we have a protecting solution specifically for these carpet types. 
Our Wool Protectant is water-based and has been carefully formulated to enhance the stain-resisting properties of wool. With the help of this specialized protectant, your wool carpets and rugs can easily defend themselves against most types of liquid spills, keeping stains at bay to maintain the beautiful color and texture of wool. 
What's Included in the Chem-Dry Protectant Package
Our Protectant Package doesn't only include the application of the right stain-fighting solution for your carpet type. You'll also enjoy the benefits of our innovative carpet cleaning process and the in-depth expertise of our technicians. 
Here are the specific carpet cleaning services included in the Protectant Package:
Pre-inspection of carpet or rug 
Spot testing for optimal results
Thorough pre-vacuuming
Deep cleaning using Hot Carbonating Extraction
Brushing and grooming of carpet pile
Application of stain-fighting carpet protectant
Are you looking to go above and beyond stain protection when caring for your carpet? Consider selecting our Fresh & Healthy Home Package. This package includes all of the above carpet cleaning services in addition to the use of a deodorizing solution that fights against lingering odors leaving your carpet with a fresh smell. 
Learn more about getting started with one of our carpet cleaning service packages today! Reach out to Chem-Dry at (800) CHEM-DRY for details about how we can transform your carpets and rugs.