Our Carpet Cleaning Options
August 10, 2022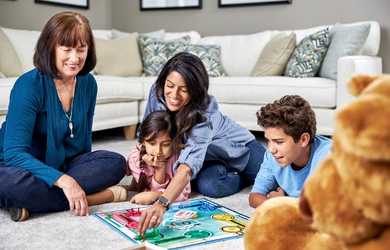 For more than four decades, homeowners have looked to Chem-Dry for a safe and effective approach to carpet cleaning. The peace of mind our services bring can allow you to enjoy your home to a greater extent while protecting the precious investment you've made in your carpeting. 
Rather than using harsh detergents and a huge volume of water to remove dirt and debris from your delicate carpets, we rely on the power of natural carbonation. In combination with our core cleaning solution, this process, known as Hot Carbonating Extraction, gently lifts contaminants from deep within your carpet. The only thing left behind is a deeply cleaned and quick-drying surface that offers a comfortable foundation for your family life. 
Choosing the Right Level of Carpet Cleaning for Your Needs
We have several carpet cleaning options available to accomodate the needs and preferences of our clients. Instead of applying a one-size-fits-all philosophy to the delivery of our services, we offer different levels of support for you to choose from.
Whether you're looking to fight future stains with a stain-repelling carpet protectant or you're concerned about strong odors in your home, you're sure to find a package among our service offerings that is just right for your current situation.
Below are the three levels of carpet cleaning we offer.
Our Basic Package: The Clean Level
With this basic carpet cleaning package, you can experience the deep-cleaning effects of our Hot Carbonating Extraction (HCE) process. This process is so effective because it easily penetrates the many layers of your carpet, reaching the base and extracting dirt and grime that has become compacted between carpet fibers over time. 
As HCE is performed using a Chem-Dry Green Certified solution called The Natural®, you won't have to worry about harsh chemicals ruining your carpets or soapy, dirt-attracting residues being left behind. 
Our Stain-Fighter Package: The Clean & Protect Level
Sometimes, you want more than just clean carpets. You want carpets that are protected and make cleaning inevitable spills easier. If you are concerned about life's many accidents sabotaging the look and feel of your carpeting, our Stain-Fighter Package may be the right option for you. 
Through this package, you can enjoy the same deep-cleaning effects of our Basic Package along with the advantages of a professionally applied carpet protectant. This stain-fighting formula is co-applied during the HCE process, enabling the protectant to wrap around carpet fibers and reduce the ability of stain-causing liquids to be absorbed by your carpet or permanently alter its appearance.
Our Fresh & Healthy Home Premium Package: The Clean, Protect & Deodorize Level
Our premium package is for those who want to give their carpets some TLC while boosting the freshness and comfort of their home environment. The services included in this package cover the deep clean of the Basic Package and the protective powers of the Stain-Fighter Package, but also include the use of a transformative deodorizer. 
This powerful product does not mask odors with a telltale perfume. Instead, it eliminates unpleasant smells, providing you with a home that smells just as fresh and clean as your carpet looks. 
Our Additional Services For Your Home
At Chem-Dry, we don't limit our services to carpet cleaning. In fact, we leverage the power of our HCE process and our in-depth experience knocking out stains and odors to provide other services that can make a huge difference in how your home looks and feels. 
These additional services include:
Upholstery Cleaning
Our upholstery cleaning services enable your favorite furnishings to benefit from the power of our HCE process. We can bring your favorite couch or loveseat back to life, whether it is upholstered with synthetic fabric, suede, leather, or natural materials.
 
Stain Removal Service
When tough stains leave an unsightly mark on your carpets or upholstery, you may worry that a small accident has completely ruined your investment. The good news is that you can rely on our experienced team to get out the most stubborn stains, including those from wine, coffee, mud, and other highly pigmented substances.
 
Pet Urine Odor Removal Treatment
Our pet urine removal treatment, known as P.U.R.T., targets the source of pet odors. This treatment sinks deep into the base of carpets and works on a molecular level to dissolve the urine crystals that remain after a pet accident. You can say goodbye to lingering pet odors for good thanks to P.U.R.T.!
Learn more about our range of carpet cleaning services today! Call (800) CHEM-DRY to connect with an experienced Chem-Dry technician in your local area.