Add Carpet Cleaning to Your Holiday Prep List
October 20, 2021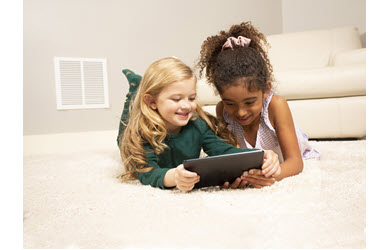 Are you looking to get ahead of the holiday chaos that descends every year no matter how much you plan? Even if you've already got your shopping list down pat, created a delicious menu, and arranged the arrival and departure dates for all of your holiday guests, there should still be one more item on your to-do list: carpet cleaning. 
With the holidays just around the corner, it's essential to get your carpets cleaned before your guests arrive. Clean carpets ensure your guests will be welcomed into a fresh, comfortable, and healthy environment.
With the quick, efficient, and comprehensive services offered by Chem-Dry, you can count on having your carpets, area rugs, and upholstery professionally cleaned without worrying about squeezing this necessity into your busy holiday schedule.
Still unconvinced that carpet cleaning is a must this time of year? Take a look at just a few reasons why it's best to have your carpets professionally cleaned well before the holidays get into full swing.
A fresh home is the best way to welcome guests.
Nothing will have a guest eyeing the door like stains and odors from pet accidents. As much as you love your furry friend and consider them to be part of the family, their accidents can certainly hamper the holiday spirit. Even if you've tried some DIY techniques to get rid of the smell and less-than-pleasant appearance of these stains, you likely have been unsuccessful at fully ridding your carpet or upholstery of the evidence.
The good news is Chem-Dry can eliminate pet odors just in time for the holidays, enabling you to welcome both the holiday season and guests with even more cheer than usual. We have a specific process designed to lift away pet accident stains and related odors, aptly named Pet Urine Removal Treatment (P.U.R.T.®). Thanks to P.U.R.T., the technicians at Chem-Dry can remove even the toughest remains of pet accidents without any extra effort on your part.
Taking care of carpet cleaning in advance can free up space in your busy schedule.
As much as many of us love the holidays, they still spell chaos for most. During this season, you're likely biting off more than you can chew. While this may mean more time with friends and family and more holiday memories, it can also lead you to put important chores on the back burner.
Get carpet cleaning done and out of the way so you don't have to give it a second thought over the holidays! Depending on the services you request, we can be in and out of your home in an hour or two. 
Plus, our Hot Carbonating Extraction (HCE) process uses significantly less water than steam cleaning, meaning your carpets will quickly dry and be ready to enjoy. This efficiency makes our services convenient at any time of the year, but it is especially appreciated in the midst of the holiday prep process.
Your guests deserve to relax in a healthy environment.
Your carpets are likely harboring dirt, and they're getting dirtier by the day. Rather than waiting until the holidays are over to clean them, start this season with a fresh slate. 
You may not be aware of the allergies or sensitivities your guests have, and it's best to take the cautious route by ensuring your home is as healthy as possible before the doorbell rings. That way, your guests can enjoy the holidays without experiencing otherwise preventable allergy attacks or irritations.
At Chem-Dry, we know our HCE process can improve the health of your home and promote the well-being of your guests. However, you don't have to take our word for it. A home health study conducted by an independent laboratory has shown that our services remove 98.1% of common non-living allergens* on average from carpets and upholstery. 
Have we convinced you to cross carpet cleaning off of your holiday prep list sooner rather than later? Simply call (800) CHEM-DRY to connect with a Chem-Dry technician in your local area!
 
*Based on results from a study conducted by an independent laboratory using the Chem-Dry Hot Carbonating Extraction process. Allergens tested were dog and cat dander and dust mite matter. Figures are an average across multiple homes.