Are There Chem-Dry Carpet Cleaning Companies Near Me?
October 19, 2022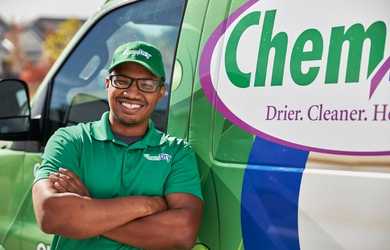 For more than 45 years, Chem-Dry has been working to help homeowners discover a healthier, more convenient, and more effective way to clean their carpets. Our carpet cleaning company is dedicated to giving our clients a safe, comfortable home that's deeply clean. 
Thanks to our range of services, we are able to resolve some of the most challenging issues that come along with carpet ownership, including:
Moreover, we simplify the process of cleaning carpets, cutting through the noise of ineffective DIY hacks. Our carpet cleaning service ensures homeowners always know who to call when they want to restore the freshness and plush comfort of their carpeting. 
Find a Chem-Dry Carpet Cleaning Company in Your Community
Since our founding, we have grown to become the leading carpet and rug cleaning company across the globe, with over 3,000 franchises. Our success stems from our dedication to helping our customers keep their homes clean and from the level of homeowners in our technicians.
It also speaks to the positive reputation we have built and maintained over the years. Our clients know they can turn to us when they need a reliable carpet cleaning company. We take pride in continuing to grow our business as even more homeowners discover the difference our innovative approach to carpet cleaning can make for their homes.
In addition to offering proven results, homeowners also turn to us because it's easy to find our carpet cleaning technicians in their local communities. If you are ready for our Hot Carbonating Extraction process to renew and refresh your soiled and stained carpets, we're proud to say it's easy to find a Chem-Dry technician in your local area who can help. 
In fact, finding a Chem-Dry carpet cleaning company near you is as simple as calling (800) CHEM-DRY or clicking this link.
What to Ask Your Local Chem-Dry Carpet Cleaning Company
Once you've found a Chem-Dry carpet cleaner in your local area, you may be eager to get to know more about our process. After all, your carpets are a significant investment in your home. It's important to know how they will be cleaned before getting started with any carpet cleaning company. 
You may be especially concerned if you have had negative experiences in the past with carpet cleaners who used steam cleaning or other less-than-ideal methods. Many homeowners have been left with soaking wet carpets or with a soapy residue that left their carpet feeling crunchy.
Fortunately, you won't have to worry about either of these issues when you choose Chem-Dry. Not only do carpets dry within hours following the completion of our Hot Carbonating Extraction process, but they are also not exposed to harsh detergents during this process. 
This means you won't have to deal with the aftermath of a sudsy, soapy residue that can lead to a crunchy fee. Instead, you can look forward to quickly getting back to your everyday life with carpets that feel fresher than ever.
Other practical questions you may want to ask your local Chem-Dry include:
How long has your carpet cleaning company been in business? 
Understanding the history of the company can give you insight into their professionalism and their level of experience. For additional information in this regard, ask for testimonials or search the web for recent customer reviews.
 
How much does carpet cleaning cost? 
As with any service, ensuring you understand the cost of your carpet cleaning service is best. We offer different carpet cleaning packages for you to choose from. 
 
Am I responsible for moving furniture before the technician arrives? 
Clear up logistical details and responsibilities so your carpet cleaning appointment goes as smoothly as possible.
Are you ready to find a Chem-Dry carpet cleaning company near you? Call (800) CHEM-DRY today or search Chem-Dry carpet cleaners by state or metro area here to take the first step towards cleaner carpets and a fresher, more comfortable home.