Chem-Dry Carpet Cleaning: For a Cleaner, Healthier Home
September 01, 2021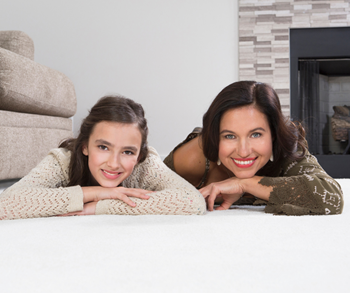 At Chem-Dry, we understand many families simply aren't satisfied with the results of the traditional steam cleaning process for carpet cleaning. This conventional approach to carpet cleaning can leave carpets wet and soggy for days, damaging the integrity of the fibers and dyes and opening the door to mold and mildew. 
It can also leave behind a sticky residue that attracts dirt rather than repelling it. This combination can make steam cleaning an unhealthy choice for your home and a less-than-ideal solution that does not actually promote the longevity of your carpets. 
That's why we've developed our Hot Carbonating Extraction (H.C.E.) process. We've found a solution that avoids the many issues of steam cleaning. It also provides fantastic results that keep your carpets looking and feeling clean and fresh. 
Based on the dirt-dissolving power of carbonation and a green-certified cleaning solution called The Natural®, Hot Carbonating Extraction offers everything you could want from exceptional carpet cleaning: clean carpets in hours without relying on toxic formulas or wasting water.
Explaining Our Motto for Carpet Cleaning
Want to know what's behind the Chem-Dry carpet cleaning tagline - Drier. Cleaner. Healthier.? We've broken it down for you below so you can understand the values and priorities of our company at a quick glance.
Drier Carpets
Hot Carbonating Extraction uses 80% less water than most steam cleaning processes. The H.C.E. process has several benefits. First, it means less water wastage, which is better for the planet. 
It also means your carpets won't be saturated with moisture for days on end. Instead, they will dry in a couple of hours. As a result, your family can enjoy the plush, fresh feel of clean carpets on the same day we deliver our services! 
Additionally, this low-moisture approach significantly reduces the risk of mold or mildew growth in and under your carpets, which is better for the health of your family and the integrity of your carpets.
Cleaner Carpets
Traditional steam cleaning depends on soapy detergents to dissolve dirt and grime. While this may seem like a reasonable course of action, the fact is these detergents are difficult to wash away, even when using loads of water. 
Consequently, they often leave traces of a sticky residue on carpet fibers that acts as a dirt magnet. If you've ever noticed your carpets appear dirty again quite quickly after steam cleaning, this could be why. 
Because our core cleaner, The Natural®, is not formulated with soaps, detergents, or harsh chemical substances, it does not attract dirt. With Hot Carbonating Extraction, you can finally break out of the cycle of cleaning and drying your carpets and instead look forward to a carpet that stays cleaner for longer.
Healthier Carpets (And a Healthier Home)
We know you'd never knowingly choose to risk your family's health through your cleaning choices. In addition, you likely believe steam cleaning can promote the health of your home by getting rid of dirt and grime that has built up in your carpets. 
However, you may not know whether the steam cleaners you're working with rely on toxic chemicals during the cleaning process. You also may not have considered how their approach to cleaning can result in mold growth in your home, which could be particularly troublesome for those with vulnerable respiratory systems.
Our expert technicians at Chem-Dry realize your family's health is your number-one priority. We focus on utilizing cleaning solutions that are non-toxic and safe for all members of the family, including kids and pets. Our core cleaner, The Natural uses ingredients you can find on the FDA's G.R.A.S. (Generally Recognized As Safe List). This way, you can have peace of mind that your carpet cleaning efforts are contributing to the health of your home.
We also have resounding evidence our upholstery and carpet cleaning services offer health benefits. A study conducted by an independent laboratory found that Hot Carbonating Extraction removes 98% of non-living allergens* from carpets and upholstery. 
This process also gets rid of dirt and grime. Thus, our carpet cleaning services not only improve the look of your carpets, they also improve your home's indoor air quality and promote the overall well-being of your family.
Are you ready to experience the benefits of Chem-Dry carpet cleaning for yourself? Reach out to us today at 1-800-Chem-Dry to find a Chem-Dry in your local area!
 
*Based on results from a study conducted by an independent laboratory using the Chem-Dry Hot Carbonating Extraction process. Allergens tested were dog and cat dander and dust mite matter. Figures are an average across multiple homes.