Start 2022 by Scheduling Carpet Cleaning
January 05, 2022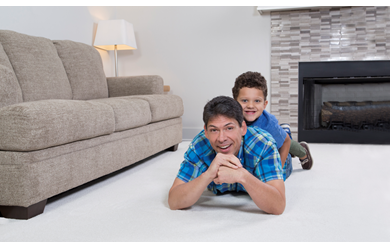 Take the old adage of starting the new year off on the right foot by welcoming 2022 with freshly cleaned carpets. Winter weather and holiday parties can do a number on your floors, and scheduling a carpet cleaning visit from professionals can get rid of the dirt, salt, and grit that has been dragged into your home over the holiday season. 
Plus, if you've had any accidents or spills occur while family and friends have gathered around your home enjoying festive drinks or goodies, you can count on our team at Chem-Dry to take care of some of the most stubborn spills and stains. 
Give Yourself One Less Thing to Think About in the New Year
In this day and age, many of us feel overwhelmed by our to-do lists and our hectic schedules. Because of the busy nature of modern life, it's common for people to put off cleaning their carpets for far too long.
Do yourself a favor and make carpet cleaning around New Year's a new annual tradition. ONce all the holiday decor is packed away, it's a great time to have your floors, rugs and furniture cleaned. We will remove built-up dirt and grime to reveal freshly cleaned carpets and area rugs, bringing a greater level of clean to your home and one less thing to stress over. 
Extend the Life of Your Carpets with Professional Carpet Cleaning
Scheduling a professional carpet cleaning from the experts at Chem-Dry won't only make your home look and feel cleaner. It will also help extend the life of your carpets. 
Our Hot Carbonating Extraction (HCE) process gently lifts dirt, debris, stains, and spills from delicate carpet fibers, so they stay springy and plush for longer. Plus, unlike other carpet cleaning methods, our cleaning process won't leave behind a sticky residue on your floors that may attracts dust and dirt particles. This means you can look forward to scheduling fewer professional cleaning sessions while keeping your carpets looking their best. With the support of our expert technicians and innovative processes, you can ensure your carpets stay in great condition for many more New Years to come. 
Stay On Top of Carpet Cleaning Throughout 2022
We can help you stay on top of your carpet cleaning needs in the New Year and beyond. Our professional technicians are easy to communicate with and will provide services with no hassle on your part. 
Most importantly, you won't have to wait all day for your carpets to dry after having them cleaned. Our Hot Carbonating Extraction process relies on the power of natural carbonation to thoroughly clean carpets, rather than on endless gallons of water. The result of this low-moisture process is that your carpets will dry faster than with other cleaning methods. 
After just a few hours, you can get back to living your normal life on clean carpets. When having your carpets cleaned is this convenient, you won't have to stress about staying on top of your cleaning schedule throughout 2022.
We'd love to tell you more about our carpet cleaning services and help schedule your first professional cleaning of 2022. Just get in touch with your local Chem-Dry technician by calling (800) CHEM-DRY today!