Our Carpet Cleaners Prolong the Life of Carpets
February 15, 2022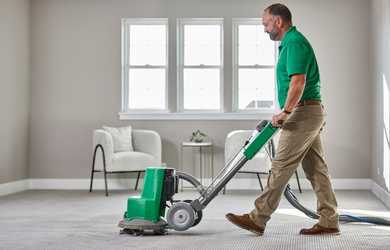 If you have carpet in your home, you enjoy a number of benefits. From adding a sense of coziness and warmth to living areas to providing sound insulation and an element of air filtration, your carpets play a number of roles in your home. To maintain both the performance and appearance of your carpets, it's important to invest in regular maintenance by hiring professional carpet cleaners. Doing so won't only help your carpets perform to their full potential. It will also increase their longevity, so you can enjoy them for years to come. 
Choosing the Right Carpet Cleaners
Of course, working with professional carpet cleaners will only extend the life of your carpets if the cleaners use the right tools and techniques. It's important to keep in mind that carpet fabrics can elongate over time, weakening the structure of the fibers and reducing the elasticity and plush texture they originally had. That's why it's essential to choose carpet cleaners that won't contribute to this aging process and will work to restore the softness of your carpet while cleaning it.
Unlike steam cleaners, Chem-Dry technicians work with innovative processes that have been specifically designed to deep clean carpets while offering the protection and care they need. Called Hot Carbonating Extraction (HCE), this process leverages the power of carbonation to gently but effectively lift dirt and soil from deep within carpet fibers, all without the use of harsh detergents or machinery that damages delicate carpet fibers. 
Making the decision to work with Chem-Dry can give you peace of mind; you'll know you are doing the right thing for your carpets. The Carpet and Rug Institute has awarded Chem-Dry the CRI Platinum Seal of Approval. This certification ensures our proprietary carpet cleaning PowerHead equipment will remove soil without damaging carpets. 
Additionally, Chem-Dry has been awarded the Carpet and Rug Institute's Platinum Seal of Approval. Thanks to our HCE process, which is gentle on carpets while delivering a thorough clean, we are able to help homeowners enjoy their carpets for longer. 
Carpet Cleaning Frequency For Your Carpet's Longevity
While you may know how crucial proper cleaning is for the longevity of your carpets, you may not know how often you should ask professional carpet cleaners to come by. There are several factors to keep in mind when scheduling a visit from our carpet cleaners. These include the following:
The level of traffic your carpet regularly experiences
How many people live in your home
Whether you have pets, and how often they go outside
The presence of moisture in the home
Any stains or pet accidents on the carpet
Any allergies or asthma problems in your family
These factors will all play a role in how often your carpet needs to be cleaned to extend its life and promote your family's health and comfort. In general, homes with kids and pets should be cleaned two to three times a year; this rule of thumb also applies for those dealing with allergies or asthma. 
If you do not have children, pets, or allergies, you may be able to get by with one to two cleanings per year, unless you notice significant traffic patterns on your carpets or have a stain-causing accident occur. 
Learn more about how our carpet cleaners can extend the life of your carpet. Call (800) CHEM-DRY today to speak with a local technician about our innovative processes and take the next step of scheduling your carpet cleaning session.