What Process Do Chem-Dry Carpet Cleaners Use?
September 07, 2022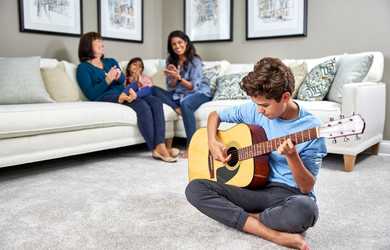 It's crucial for homeowners to understand how their carpets are being cleaned when they call on professional carpet cleaners. That's why our team at Chem-Dry is committed to being completely transparent about our process and the products we use. 
We are incredibly proud of this process, which we developed specifically to replace less efficient and less effective carpet cleaning methodologies. Read on to learn more about our innovative Hot Carbonating Extraction process and the results that it enables our carpet cleaners to deliver!
About Our Carpet Cleaners' Hot Carbonating Extraction Process
Our unique method for cleaning carpets offers a deep clean that reaches down into carpet fibers to attack the dirt and grime that has become compacted against the carpet's backing over time. While you may think it's only possible to provide this level of clean by relying on soapy chemicals or harsh detergents, this simply isn't the case. To avoid exposing your carpets to these substances, which can be difficult to wash away even with huge volumes of water, we turn to the natural power of carbonation.
Through our Hot Carbonating Extraction (HCE) process, we tackle stubborn stains and deep-seated signs of traffic by applying a carbonated cleaning solution called The Natural®. The Natural is a Chem-Dry Green Certified solution that is safe for your carpets as well as your children and pets. 
When this cleaning solution is applied to carpeting, millions of tiny bubbles are released and begin loosening the dust and dirt within the carpet and lifting these contaminants to the surface. Our technicians then whisk away the dirt using our robust PowerHead® equipment for extraction. 
Because we don't need soapy detergents to clean your carpets, you won't have to worry about our HCE process leaving behind the dirt-attracting residue that is so common with other carpet cleaners. Instead, you can expect your carpets to feel freshly cleaned and stay that way for longer. 
Additionally, you won't have to wait days to enjoy your freshly cleaned carpets. The HCE process utilizes only a fraction of the water of conventional carpet cleaning methods, and your carpets will require less time to dry as a result. In fact, our clients generally only have to wait a few hours after a visit from our carpet cleaners to use their carpets as normal.
Other Outstanding Processes Used By Our Carpet Cleaners
We know that life takes unexpected twists and turns, and accidents happen more frequently than we'd all like. That's why our carpet cleaners offer additional cleaning services that go above and beyond basic carpet cleaning. The processes we work with can lift up some of the most stubborn stains, effectively deal with pet odors, and even protect your carpets from stains in the future.
For example, consider our Pet Urine Removal Treatment (P.U.R.T.® ). The P.U.R.T. process consists of:
Finding pet accidents in your home using a UV light
Cleaning the carpet with HCE
Applying our powerful P.U.R.T. product
Like The Natural, P.U.R.T. is Chem-Dry Green Certified and is safe for use around both humans and animals. This specialized product breaks up urine crystals and other odor-causing matter to eliminate the source of odors.
Our carpet cleaners also have a specialty stain remover process for handling almost any stain on your carpets or rugs. Whether you're dealing with a stubborn stain resulting from wine, coffee, tomato sauce, or another culprit, you can count on us to take the right approach to remove the stain while being gentle on delicate carpet fibers. You can also ask us to apply a protective solution while we clean that guards your carpet against future stains and gives you the peace of mind you need to enjoy your clean carpets to the fullest.
Are you ready to benefit from the innovative and effective cleaning processes used by our carpet cleaners? Call (800) CHEM-DRY today to find a Chem-Dry technician in your local area!