Why Chem-Dry is the Best Carpet Cleaner
May 05, 2022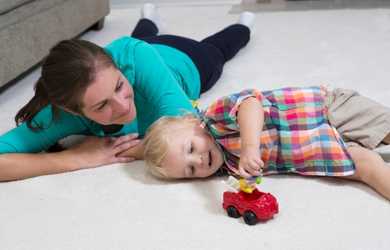 When it comes to cleaning your carpet, you have a lot of options. There are plenty of professional companies out there who promise to do wonders for your carpet by removing stains, getting rid of soil and grime, and preventing the quick return of dirt. As a result, you may have trouble determining which company is the best carpet cleaner. 
Because your carpet represents a significant investment in your home, you only want knowledgeable technicians with safe but effective products and state-of-the-art equipment to care for it. The team at Chem-Dry understands why your choice of carpet cleaner is so important. We're here to provide the results-driven, convenient, and high-quality services you're looking for. 
How to Identify the Best Carpet Cleaner
Most carpet cleaning companies will have an elaborate pitch prepared to assert why they're the best choice when it comes to caring for your carpet. That's why it's important to have a discerning eye when doing your research and ultimately choosing a carpet cleaner. As you consider the options available in your area, keep the following points in mind.
The Best Carpet Cleaner Cares About Your Family's Health
The aim of cleaning your carpet isn't just to enhance its appearance and make it more comfortable underfoot. The main goal of carpet cleaning should be to promote the health of your family and your home environment. That's why, at Chem-Dry, we make health such an important factor in our cleaning process. 
Regular carpet cleaning is especially important for families living with allergies or asthma and those with pets. Dander from dogs or cats, as well as dust mite matter and other allergens will settle into carpet fibers and upholstered fabrics. If not cleaned regularly by professionals, the accumulation of these allergens can increase breathing difficulties and make allergies harder to live with.
The Best Carpet Cleaner Cares About the Environment
Just as a carpet cleaning company shouldn't overlook your family's health in the quest for cleaner carpets, they also shouldn't overlook the needs of the environment. At Chem-Dry, we've made a focus on sustainability an integral part of our carpet cleaning approach.
By creating the Chem-Dry Green Certified program, a meticulous internal certification process, we are putting our stamp of approval on the cleaning products that are safe for humans, animals, aquatic life, and clean air. Additionally, we've created our core cleaning solution, The Natural®, based on elements found in nature, and all of its ingredients are part of the FDA's G.R.A.S. (Generally Recognized as Safe) list.
The Best Carpet Cleaner Cares About Your Quality of Life
Your carpets form the foundation of your home. They are where your children and pets play, and they are located in the rooms where you spend the most time bonding as a family and with friends and neighbors. 
When carpet cleaning disrupts the normal routines of your home, it can be a burden that you put off indefinitely. Because we want to ensure you enjoy the benefits of regularly cleaned carpets, we make having your carpets cleaned a breeze. 
Thanks to our Hot Carbonating Extraction process, which uses around 80% less water than steam cleaning methods, you won't have to wait days for your carpets to dry after cleaning. They'll be dry and ready to use again within hours. That way, you don't have to rearrange your life to avoid wet carpets. Instead, you can look forward to the feeling of plush, clean carpet soon after having them cleaned.
Discover the difference that Chem-Dry can make for your carpets and your home, and determine for yourself whether we are the best carpet cleaners around! Just call (800) CHEM-DRY today to get started with a Chem-Dry technician in your local community.