How to Eliminate Pet Odors Like a Pro!
December 30, 2014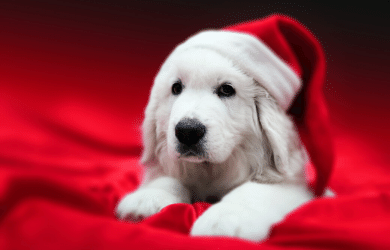 When it comes to adorable holiday gifts, nothing beats a sweet, whimpering little puppy. Was this year your year to get—or give—the best present of all? If Santa brought you or your children a puppy this year, your home is no doubt a gleefully happy one! Or, at least it is until he has had his first accident on your beautiful, crème colored rug or carpet. Pet odors can be a beast if you don't know how to eliminate them quickly. Read on to learn how to tame the beast so your house maintains its' 'like new' look and feel.
Sniff Out Those Soiled Areas
Many homeowners wonder why their cat or dog has multiple accidents on their carpet—long after their potty training days are over. The secret to your dog's madness? A soiled carpet or rug that he'll think of as his own personal 'accident area.' Beat him at his own game by sniffing out your carpet yourself. Does it seem strange? It may, but the payoff of a clean, odor free home is well worth the effort.
For Older Stains That Have Set…
Once you have targeted those areas that smell of urine, it's time to invest in damage control. Start by making sure the area is thoroughly clean by vacuuming all crumbs, debris, etc. from the affected area.
Avoid harsh chemical stain removers that are found at the supermarket. These can cause a residue that can be harmful for your pets and children. Instead, enlist the help of Chem-Dry, the carpet cleaning professionals. Their patented pet urine removal treatment (which is specially designed to remove even the strongest pet odors) works on a molecular level, allowing the root cause—crystals from the pet urine once the liquid has evaporated—to be dissolved and dissipate entirely.
A Quick Fix For New Stains
If you have a new cuddly, adorable (and let's face it!) hyperactive puppy, then in the near future you'll witness it in the act—peeing on your carpet, that is. Whether it happens once or ten times in ten days, the clean-up process is the same. Blot with paper towels as soon as possible! Continue to blot with a heavy layer of paper towels until there isn't any more moisture that can be absorbed and use our Chem-Dry at home Pet Odor Extinguisher that you can buy here. It destroys fresh urine odors while using no harsh solvents or bleaches. It's safe for all carpet types and most importantly, safe for use around your kids and pets.
Whether your puppy is watching you clean up his mess or not, he needs to understand were the appropriate 'accident area' is—so scoop him up and head outdoors. Repeat this process until there's a clear understanding between you and your puppy—your beautiful, clean carpet needs to stay that way and it's up to him to do his part!