5 Upholstery Cleaning Questions Answered
April 27, 2022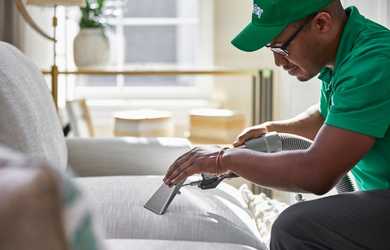 Can you remember the last time you had professional upholstery cleaning? Your upholstered furniture plays a central role in your family's home life. Couches, love seats, ottomans, and dining room chairs give your family the opportunity to comfortably spend time together. 
As a result, these pieces experience a significant amount of day-to-day wear and tear. From exposure to stain-causing beverages and crumbs to pet dander and airborne dust, your upholstered furnishings take on dirt and grime just as your clothes do. But unlike doing laundry on a weekly basis, upholstery cleaning may not be something you think about too often.
Our Upholstery Cleaning Technicians Answer Your Questions
With upholstery cleaning being an often overlooked but necessary task, there are a lot of questions surrounding this process. Many homeowners want to inquire about the best ways to clean their upholstery but aren't sure where to turn. 
The professional technicians at Chem-Dry are here to answer some of the most common upholstery cleaning questions. We can provide the information and service you need to properly protect and maintain all your favorite furnishings. 
1. Why is upholstery cleaning important?
Your upholstered furniture doesn't only provide your family with a comfortable place to sit. These fabric-covered furnishings also trap airborne particles of dust and other pollutants that would otherwise linger in the air in your home and possibly trigger allergic reactions. 
If the fabric is not cleaned regularly, it can become overloaded with dust, preventing it from being able to effectively trap these airborne particles. In turn, the indoor air quality in your home can suffer.
However, with upholstery cleaning conducted by Chem-Dry technicians, you can get rid of the dust and dander hiding in your upholstery. 
2. Are upholstery cleaners worth it?
When you've got a limited budget to work with, you want to make sure you're getting the most bang for your buck. While professional cleaning for your furniture may sound like a luxury, it's actually an investment that pays off over time.
Our services help lengthen the life of your furniture by getting rid of compacted dirt and dust that is hiding in the upholstery fabric. Additionally, we can help remove stubborn stains that may otherwise have you considering replacing your furniture which will cost significantly more than having it cleaned. 
As part of our cleaning service, we can also apply a protectant that ensures you can count on future stains being repelled.
3. What do upholstery cleaners do?
Our upholstery cleaners first target and whisk away dirt and grime in upholstered fabric utilizing our meticulous and effective Hot Carbonating Extraction (HCE) process. After cleaning your furniture, we can also apply a special protectant to form a shield around fabric fibers. Adding a protectant will help keep your furnishings looking great over time. If you need help dealing with strong odors, you can also benefit from the application of our powerful deodorizing solution, which knocks out the source of unpleasant smells rather than masking them. 
4, What upholstery cleaner do professionals use?
The upholstery cleaner used by Chem-Dry professionals, as part of the Hot Carbonating Extraction process, is called The Natural®. The Natural isn't just safe and gentle enough to be used on delicate upholstery. It is also safe for children and pets. You can have total peace of mind when our technicians use The Natural in your home as all of its ingredients can be found on the FDA's G.R.A.S. (Generally Recognized as Safe) list.
5. What is the best way to clean sofa upholstery? 
Upholstery cleaning done right uses minimal water and zero detergents. That's what makes the Hot Carbonating Extraction process developed by Chem-Dry such a great option for upholstery.
The HCE process utilizes the natural power of carbonation to carefully lift dirt, grime, and stain-causing agents that stick to upholstery fibers deep within your sofa. Because upholstery dries in a matter of hours after being cleaned through Hot Carbonating Extraction, you won't have to worry about wet furniture providing a breeding ground for mold and mildew. 
Get started with upholstery cleaning by experts who know how to protect your favorite furniture while promoting its longevity. Call (800) CHEM-DRY today to learn more about the benefits of partnering with our technicians to keep your fabric-covered furnishings clean!