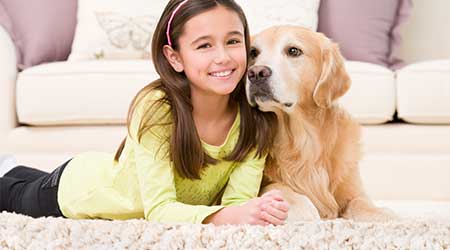 CHEM-DRY IS PROVEN TO REMOVE
98%

of non-living allergens from carpets and upholstery

99.9%

of pet urine odors from carpets
Click here for details*
Chem-Dry Cleaning Services

Carpets Dry in only 1-2 Hours
When you use less water, carpets simply dry faster. Instead of using gallons of water like typical steam cleaning, Chem-Dry uses only a fraction of the water. This low-moisture process, combined with our natural carbonating cleaning solution, penetrates deep into carpets and not only leaves carpets cleaner, but reduces dry times to a couple hours rather than a couple of days. So you and your family can get back to enjoying life in your cleaner, healthier home more quickly.

Green-Certified Cleaning Solutions
Chem-Dry has an extensive catalog of green-certified carpet cleaning products, including our primary cleaning solution, The Natural. The Natural, which is on the FDA's G.R.A.S. (Generally Recognized As Safe) list, contains zero phosphates or detergents and is completely safe and non-toxic for kids and pets.

Tested & Proven
Our mission is to help people live healthier lives. To ensure that our processes can provide the results you want to maintain a clean and healthy home, we had independent laboratories test our core cleaning methods against some of the most common unhealthy elements found in homes, including pet dander and other non-living allergens.