Ask the Carpet Cleaners at Chem-Dry
February 15, 2023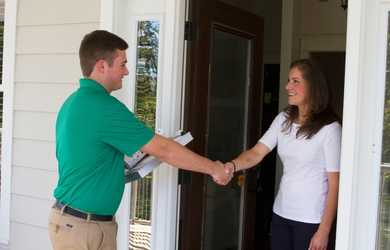 When you hire carpet cleaners to come into your home and help maintain your carpets, it's important for you to know what to expect. Professional carpet cleaners can vary in the methods they employ, the formulas they use, and their procedures for getting the job done efficiently. Inquiring about specific parts of this process can help you learn more about a carpet cleaning company and whether it's the right one for your home.
Get to Know More About Chem-Dry Carpet Cleaners
If you'd like to know more about what you can expect when you call on a Chem-Dry technician to make a difference for your carpets, we can fill you in on all the details. We're dedicated to being as transparent as possible to make sure homeowners know exactly how we will go about cleaning their carpets and the kinds of results they can expect in turn.
Here are our answers to some of the most common inquiries that our carpet cleaners receive from curious homeowners:
Are your carpet cleaning methods safe for pets?
Absolutely! The cleaning solution that we use in our Hot Carbonating Extraction (HCE) process, a formula called The Natural®, is completely safe for your whole family, including furry friends and small children. All of the ingredients in this formula appear on the G.R.A.S. (Generally Recognized as Safe) list published by the FDA, and it is free of harsh soaps and detergents. 
Do you clean all types of carpets (wool, synthetic, shag, berber, etc.)?
Yes, we are experts in cleaning carpets made from a wide variety of materials. Our HCE process is powerful enough to reach deep down into thick, plush carpet and is also gentle enough for use on more delicate materials and area rugs. We also have specialized services for heirloom rugs and upholstered furniture, helping homeowners keep a wide range of surfaces in their homes clean and well-maintained. 
How long will it take to clean my carpets? 
The amount of time required to clean your carpets will depend on the size of the area that needs to be cleaned, as well as any special services or treatments that need to be performed, such as our P.U.R.T.® (Pet Urine Removal Treatment) or specialty stain removal services. All in all, you can count on our technicians to work efficiently and thoroughly thanks to their extensive experience with carpet cleaning.
Do you offer other services?
Our expertise is not limited to cleaning carpets, and we offer a wide variety of other services to help homeowners maintain a clean, healthy, and fresh living environment that looks its best. For example, we offer leather cleaning and restoration for leather upholstery, hardwood floor cleaning, and granite countertop renewal. We also offer upholstery and area rug cleaning, as well as specialty stain removal services.
Do Chem-Dry carpet cleaners steam clean?
No, our cleaning process is not based on the steam cleaning method. Instead, we work according to a proprietary system called Hot Carbonating Extraction (HCE). This process differs from steam cleaning in a number of ways, including the volume of liquid used. HCE utilizes around 80% less water than steam cleaning, enabling carpets to get cleaned without being soaking wet for days on end.
How long will it take my carpets to dry?
After a visit from your local Chem-Dry technician, your carpets will only need a couple of hours to dry. This means you can get back to life as usual the same day that your carpets are cleaned, and your family can start enjoying having a cleaner, healthier home right away.
Do Chem-Dry technicians move furniture?
Our technicians are not licensed to move furniture, so we ask that homeowners clear the area of light furnishings such as plants, coffee tables, and large lamps before our arrival. It is not necessary for you to move heavier items, but doing so will help us clean as much of your carpet as possible.
How can I find a carpet cleaner near me?
We make it simple to find a Chem-Dry carpet cleaner near you! Simply click this link to find a carpet cleaner in your area, or call (800) CHEM-DRY to be connected with a technician near you.
Whether you have additional questions for our carpet cleaners or you want to start benefiting from the services we offer, reach out to us at (800) CHEM-DRY today!